Last time I checked, nobody wins the lottery when they have kids. This just in: kids actually take away from your disposable income not increase it. Yet the travel industry has a gaping hole between single 20-something, traveling the world on a shoestring and family travel at all-incusives. Suddenly you have kids and you're expected to have $2,000 per week per person to spend on a vacation? With that kind of price tag, no wonder so many couples just give up and resign themselves to Friday's Netflix and Chill until their kids are in University.
Well, I'm here to tell you that all of that is total bullshit. Do not let yourself go gently into that good night my friend. I stopped enjoying all-inclusives ages ago, and I don't see myself going back to one ever, why would I have to suffer through buffet lineups and towel cards in hotel jail just because I popped out a human? Hostels are still the cheapest way to travel and just because you aren't doing jello shots off some Aussie chick you met on the airport shuttle five minutes into your South Asian find-yourself-trip, doesn't mean they are out altogether.
What to look for when booking a family stay at a hostel: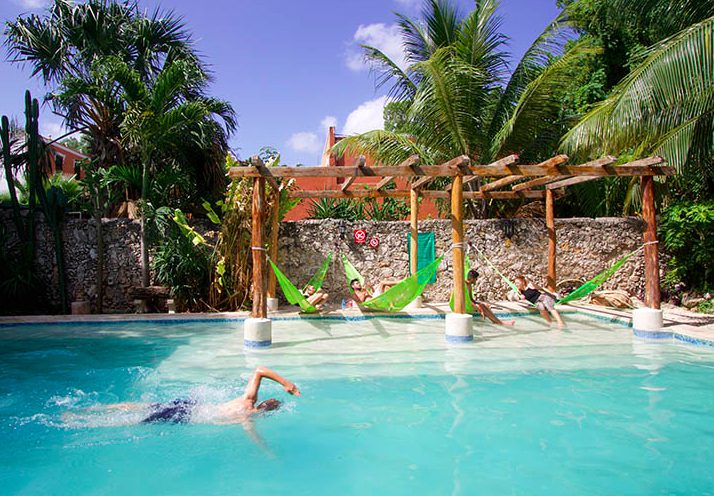 Location still matters even if you have kids. Please do not feel you have to suddenly be suburban just because you are traveling. If you're a downtown city person in your regular life, then please do not become one of these car people on vacation. Your vacation will not be fun if you do. If you're suburban in your civilian life, don't you want a break from driving already? Book something walking distance to a few things you like both alone and with your kids for example: a decent cafe, breakfast/lunch spot and a park. If you like to shop, factor that in to. Getting to know a destination is part of travel, and hostels are not for hanging out in all day – that's what your house in Canada's tundra is for.
Amenities. I cannot stress this enough. Hostels these days run the gamut from total slasher flick, flea infested stop-over to luxury spaces with every kind of hotel amenity you can think of. Look for one with a shared or private kitchen, with some free classes like yoga, cooking, salsa or language classes. Pools and bikes are also essentials – I am assuming that this vacation with your kids is somewhere warm, preferably with a beach. I don't care how amazing the ocean is, if you have kids, you need a pool at your disposable.
Hostel front desk employees are the best tour guides. Because they service such a large array of clientele, they always have a lot of knowledge about how to do local and cheap things. For instance, a hotel will book you a (yawn) tour where you are essentially segregated from the locals, the culture, the anything worth seeing or doing, and charged a premium. At a hostel, they will direct you to the nearest shuttle, give you a map and recommend a good restaurant when you get there. Let the adventure begin!
You can't beat the price either. It's somewhere in the neighbourhood of half to 70% cheaper than a big hotel. I swear this is true. If you have two kids and you are a couple, that's 4 people – the amount you spend on lodging can massively impact how much cash you have for fun stuff like museums and snorkelling and nice family dinners is fancy restaurants. Many hostels have spending levels as well where you can share a bathroom or have your own, get air-conditioning or just a fan etc. Depending on how many kids you have and where you're gong, a lot of times you can get a 4 person room with a shared bathroom for $15 a head or less.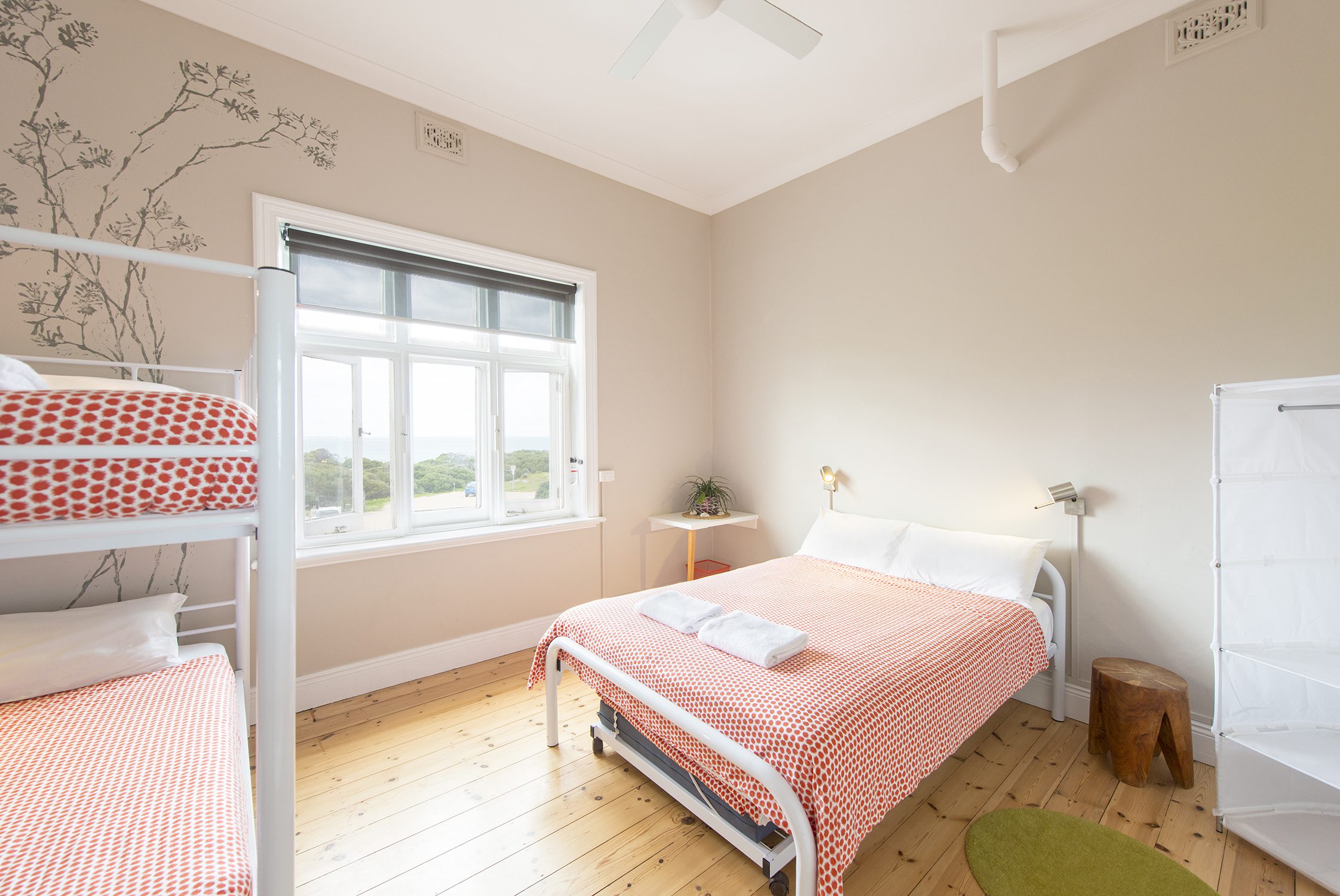 Access to a kitchen and/or restaurant. A lot of hostels include breakfast, which is great cause it provides a bit of a schedule in your day to keep your kids on track, plus unlimited cereal for growing boys sounds good to me. They also almost always have a kitchen and most have a restaurant that will serve lunch for a very good rate. Being able to cook one meal a day in house saves money so you can spend like a baller when you are out.
Also, social life. Hostels are much more social than hotels and there are a lot of solo travellers in all of them. This is really great for all you single parents out there (like me), because you will have a built in social life. I stayed at a hostel in Merida called Nomadas that has a fantastic location, a large pool, free yoga and salsa lessons, cooking classes, a kitchen, restaurant and included breakfast. They upgraded me to a room with a bathroom free of charge, even though I booked shared; they gave me great tips on where to find everything from a baby-friendly cenote to biodegradable diapers. And there were plenty of people there of all ages to socialize with. I could take my pick from 20-somethings going to hipster bars at night, to generational family travellers, women on their own and even one Italian couple who were traveling throughout Mexico with their 8-month old daughter. I actually made friends there that I still stay in touch with. Not to mention, there was always someone ready to hold my baby so I could eat.
What to look out for: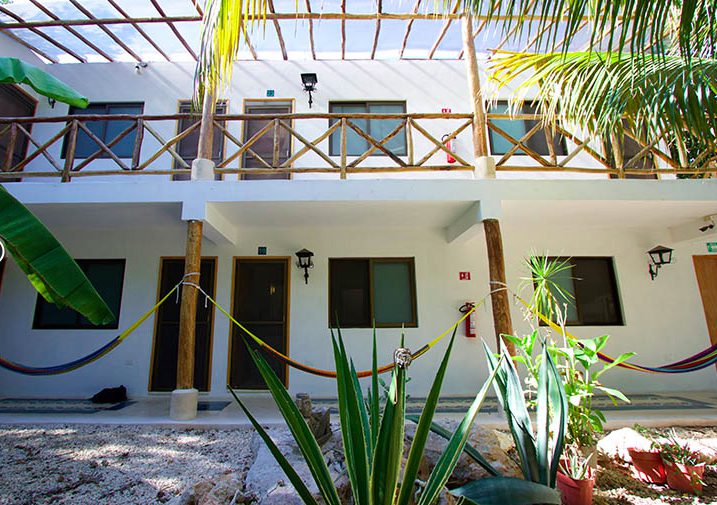 When booking a hostel with your kids, ALWAYS write to them in advance and let them know you are traveling with children and what their ages are. I have received every kind of response from, "what? you're coming here…with a baby?!?!?" to, "we have hosted lots of families, can't wait to meet your little one." It's important to write to them first because there is always the Russian roulette of "Australian Party Hostel" that you have to worry about. This also applies to time of year – if you are traveling over New Year's Eve, you might want to ask the hostel if they are planning a special event and how late it's going. I have stayed in a tent in a hostel on the beach where we were literally the only people for half the week and then on Saturday they had a massive party and as a gift from them, they put me and my then three month old daughter, into a room at the back for the night so we could sleep soundly. I have also been in hostels that had so many great people, great amenities and good vibes that I had to drag myself out just to actually see the sights. But the fear of party-hostel is real. Don't go down like that, prepare the staff for your kids.
One type of hostel is not great for all locations. If I was traveling to London, I'd stay in a big hostel 100% since London is offensive expensive for Canadians; I could get something big box, swanky and glitzy for a cheaper rate. But, if I was going to Tulum, Mexico, I'd stay away from the big-box and go with locally owned. The local tip works in beach towns and off-the-beaten path because you get the added bonus of locals to help you get around, they generally adore children out of Western cities, you will probably have less occupancy and I'm willing to bet that the included breakfast is home-cooked by a grandma type gem. Think about what you want to see and do and what's important to you. There is a hostel for every situation.
Bottom line: Friends don't let friends all-inclusive at the expense of their bank accounts.
p.s I'm hosting the first ever (according the Google) Travel Mama trip for moms and their kids (no partners please) in Guatemala. All the guess work is taken out. If you want to know more, message me anywhere and check here for deets: Travel Mama Guatemala