Last Wednesday we had the pleasure of hosting the opening of iQ's stunning new location at Yorkdale mall. It was a morning that celebrated food and community – two things that iQ's executive chef, Christine Flynn knows a hell of a lot about.
We sat down with Chef Christine for a candid chat about work (she's reached major #dreamjob status), family (she is a single mom of 14-month old twins), and how she has been able to stay so firmly grounded despite the many twists and turns life has thrown her way.

What is your role in the iQ kitchen?
I conceptualize, create, and calibrate all new menu items for each of our 8 restaurants.
What attracted you to the food industry when you first began?
I love to cook. When I work on something, I like to see a tangible result and feel a sense of accomplishment. Cooking does that for me, and by incorporating texture, colour, and flavour, it really is something you can get creative with, especially when you utilize all the senses. I also love the physicality of it.  Even now I don't mind running up and down stairs or scrubbing a hard-to-reach place because I'm using my body as much as I can instead of hunching in front of a desk.

We always joke that our days working at nightclubs prepared us well for the sleepless nights we've endured since with our babes. Did you find that working in hospitality prepared you for the (comparatively exhausting) job of mothering? And if so, how?
I would not have survived the past year plus without an intense sense of inner strength and organization. Hospitality trains you to be resilient, and to look inward, not outward, for support and solutions. Staying organized (and this is truly truly not a glamourous part of being a mom) has also been critical.   The diaper station is always full. The freezer is always packed with food. Life Insurance info and RESP balances all get sorted and scanned into a Dropbox just like receipts and invoices. There is no job that better prepares you for motherhood than cooking.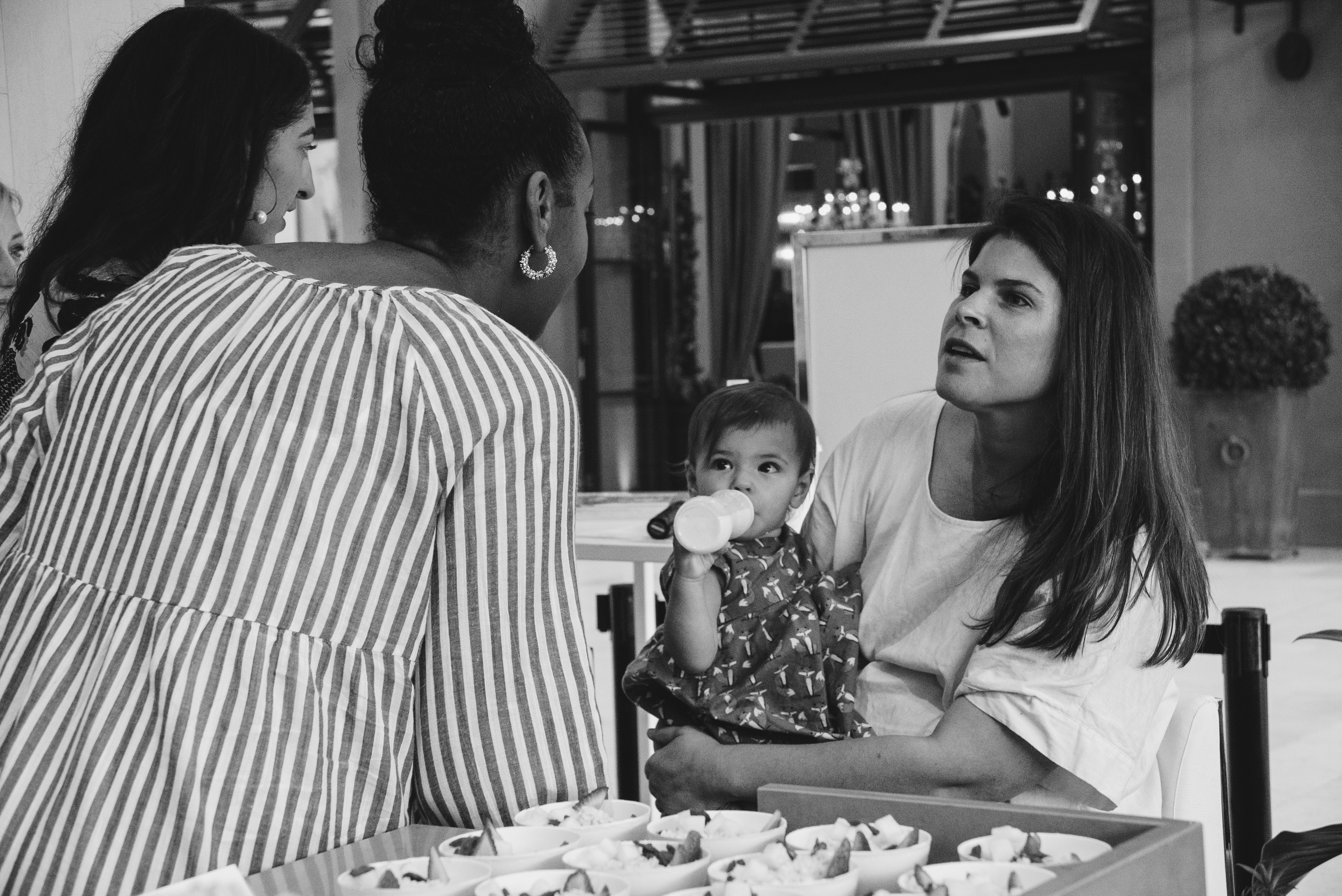 A work / life balance is hard for everyone. But you're a single mother of twins and two dogs who has managed to maintain a passionate career in the restaurant business of all places. There has got to be one seriously badass village behind you if you're dealing with all that! Who's in yours?
It's been challenging.  I don't tend to lean on others as much as I should because I made a choice to be a single mom, so I just kind of identify what I need to do and do it. Sometimes this works and sometimes it doesn't. I really hit a wall when I had been back at work for a month. The girls were about 10-months-old, I had just bought a house and was in the middle of gutting it and I was getting up at about 4:30 a.m. to drive into the city 4x a week.  My parents are pretty hands off but my dad could see I was truly at my limit and recommended I get an au pair. Hannah moved in in July and she is a rock. We had an adjustment period, but it was brief and I think we make a great team. The girls love her, and I make it a point to travel with her and try to make the experience as fulfilling as possible for her as well.

iQ has obviously been super supportive of you as a human, a mother, and an employee, What do you think other companies could learn from iQ in terms of how to retain and support amazing employees (like you) who are transitioning into and through motherhood?
The Daily did a great podcast on pregnancy discrimination a couple months ago.  It's amazing what women endure not just during pregnancy, but after.  Luckily, I was encouraged by the iQ team to set my own schedule, and to create a working timeline with clear actionables that I could feasibly execute. I came back with laser focus. Every minute I can move faster, work better or multitask, I'm doing it, because that means I can spend more time with the girls on my weekends. I think companies need to be more empathetic in general, and give employees the flexibility they need to succeed. Alan and Art have also always helped me in a jam, no matter what, and for that I will always be indebted to them – and intensely loyal.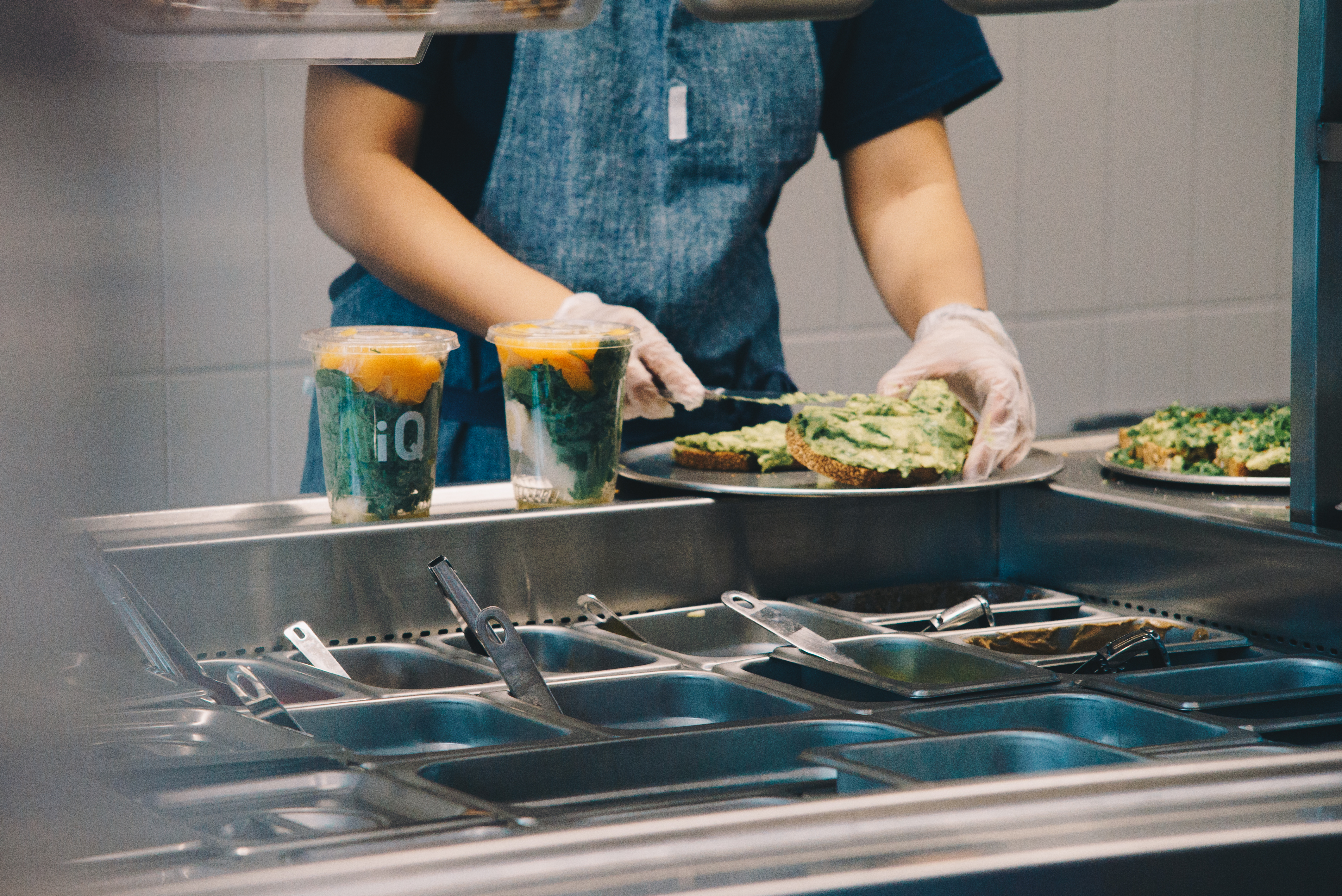 There's still a long way to go, but we're starting to feel the tides of thought changing surrounding the nuclear family; there seems to be a stronger sense of acceptance and support of more varied family dynamics. Coming from a unique family situation yourself, would you agree with that? Why or why not?
I mean it's 2018 and I'm 35.  I don't care if people accept or support our family dynamic. The girls are constantly surrounded by people who love them and are exposed on a daily basis to shared division of tasks between adults based on communication and deep respect. You know what's bad for children? Growing up with two people who actually don't like each other, or watching relationships that (for whatever reason) are completely imbalanced in terms of workload.  What we provide for Pip and Tillie will help them grow into confident and curious little humans who are ready to think outside the box.

We like to think that motherhood hasn't changed us (we are very much the same women we were pre-kids), but it has definitely been a catalyst for our evolution as women. How has motherhood helped you evolve? Which part of your post-babies self do you celebrate the most?
I am so much more organized with my time and money.  I look at everything as an investment, and am constantly asking myself if things are "worth it."  You really just cut through the bullshit once you become a mom, whether it's a friendship that isn't fulfilling, an activity you aren't enjoying or even purchasing things you don't really need. I live a very focused and stripped-down life now, and I've found it to be far more enjoyable than trying to do and be and have everything.
Evolution is definitely the good – now let's talk about the bad and the ugly. What has motherhood revealed to you about the human condition (your own or others') that has been the most difficult or disheartening? What are some of your coping methods when faced with the darker side of motherhood?
There are a lot of tropes that exist around pregnancy, birth, and motherhood that minimize the experience and make it seem like it is a time where women are irrational, demanding and weak. We don't always recognize that it is a time of incredible strength and power, and that, chances are, if you can build a human and bring it into the world, you can tackle most things, and you can tackle them head on and with grace. I'm not saying it's easy, or that you're not going to shit your pants in the first week (at least once), but that's the small stuff.  What matters is: YOU BUILT A HUMAN.

Down time: Do you ever have it?
I spend my downtime with the girls because we like the same things.  I live in a beautiful part of Ontario and there's great hiking, wineries, and a decent splash pad. I don't think you need to leave your children at home to decompress, and because Pip and Tillie are used to travelling, they are relatively well behaved.  Last weekend we went to a fair and I'm pretty sure stroking a giant chicken was the most relaxing thing I've done in a while and they were totally mesmerized too. They aren't going to want to hang out with me forever, so I just enjoy as much time with them now as I can. I also usually have an evening project on the go, so when they go to bed I'll get out my sewing machine or bake some bread for them.  There are a lot of "homesteading" jobs that I find deeply enjoyable and grounding, so I putter away at making clothes for myself or the girls or fixing things around the house.

What's the most epic menu item you've ever created for iQ?
I'm very proud of what we do as a whole.  A lot of restaurants talk about farm-to-table or making an environmental impact, but because of our size when we talk about purchasing greens from someone like The New Farm who practice not just organic but regenerative farming, we are talking about hundreds of kilos of greens each week.  These greens taste better, are grown in soil that is more bio-diverse and therefore have greater nutritional density, and their method of farming actually removes carbon from the air and counteracts global warming. My work isn't about creating individual dishes, it's about bringing to life a restaurant concept that is driven by strong values and an emphasis on community building through food.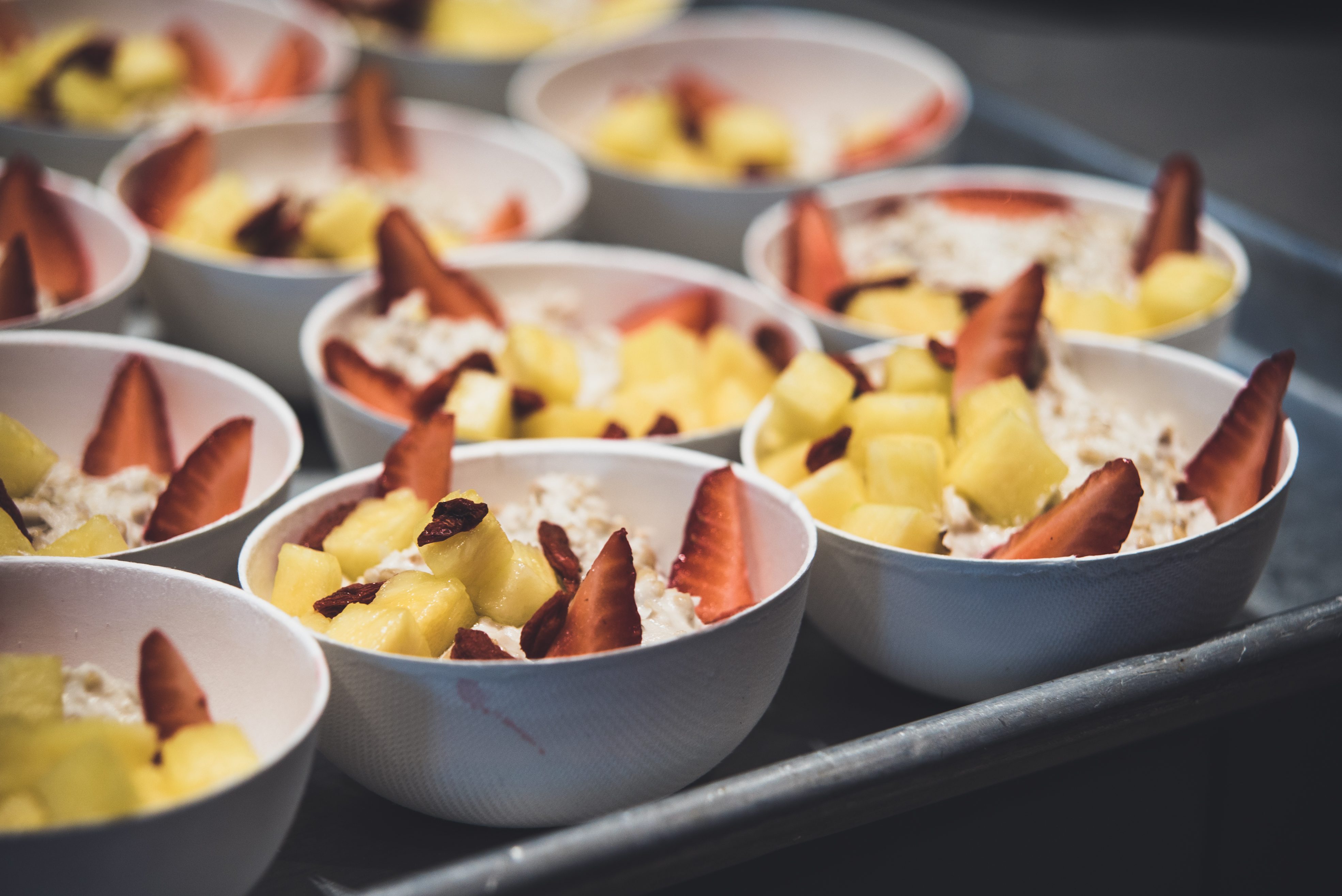 There really is so much that food can do for us – mind, body and soul – but in order to reap the benefits of it, we have to first ensure that our relationship with food is a healthy one. What are some attitudes toward food that you wish more people (specifically mothers) would adopt?
I think the communal table is such an important part of children's growth.  Having everyone sit together, enjoy nourishing meals and exchanging anecdotes and ideas creates strong bonds and an appreciation for real food.  Too often women put their families first, eating their kids' leftovers while they do dishes or vacuum up all the rice that hit the floor, but this isn't sustainable long term and isn't a great example for little people. Women need to remember to always put the oxygen mask on themselves first, and lean in to nutrition so that they can have the energy (and let's face it – enthusiasm) to be amazing parents.
Finally, if you could go back in time and tell your brand new mama self one thing, what would it be?
I was never really surprised by anything.  Even when I found myself w/out a place to live (that landlord has bad karma forever!) when the girls were 5-months-old I just sort of took it in stride.  After you grow a human, and get it into the world, you realize all the crazy stuff your parents, grandparents, great grandparents etc had to go through just for you to be here. Generations who survived war, famine, the plague or just a total lack of sanitation. I often think of how strong people must have had to be to go through real troubles – my great grandmother who survived prairie winters living a house made of sod – and that has always given me a sense of perspective and purpose. Women are built to do the most difficult job there is and never for a second have I thought I am not strong or smart enough to do that. What I am is enough.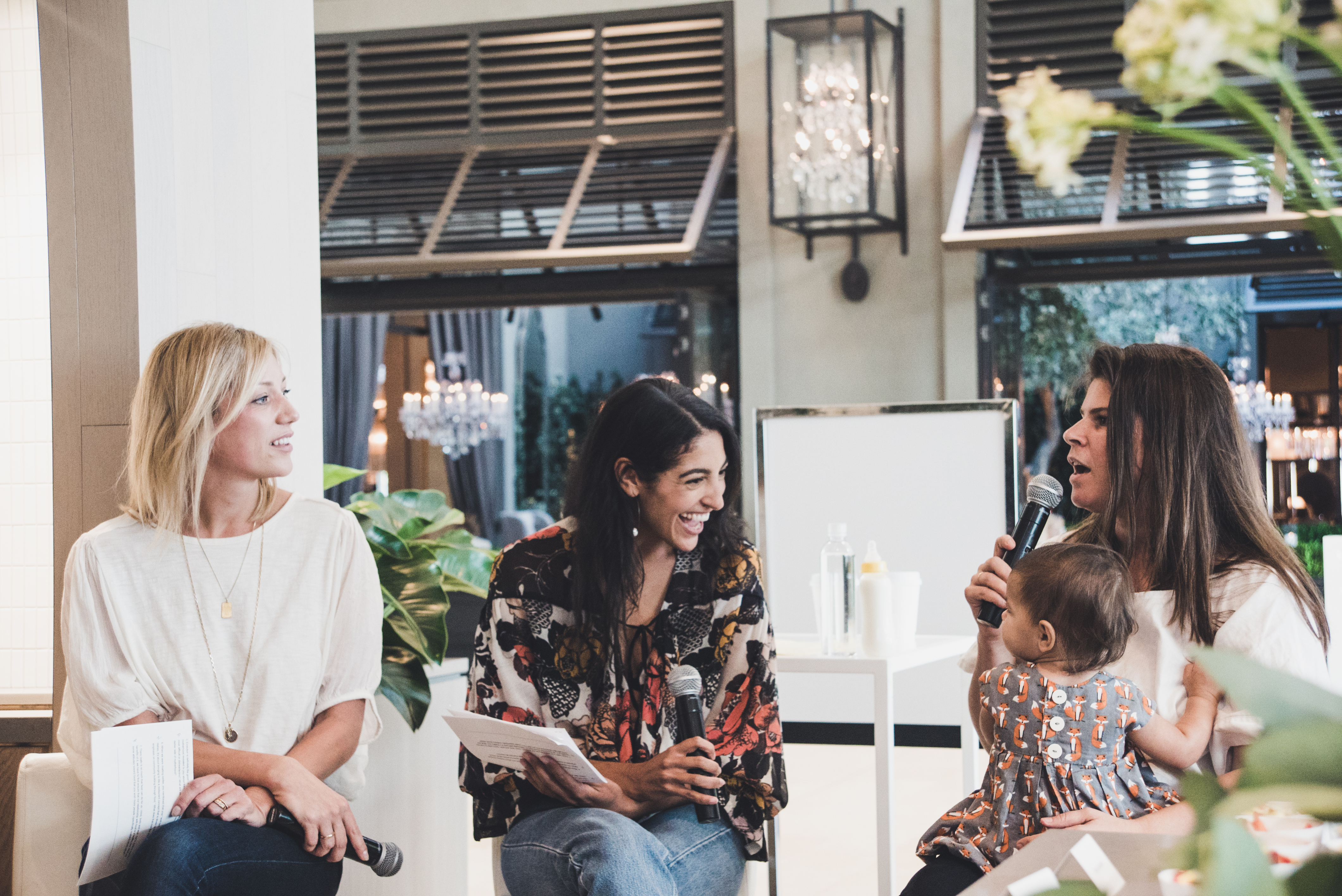 *
Thank you to all of the mamas, aunties and babes who made it out to see us and help us celebrate iQ and its crown jewel, Chef Christine Flynn, who is seriously Mom Power personified. It was a pleasure spending the morning with y'all.
Until next time,
xx RM
Keep up with Chef Christine and iQ Food Co on Instagram
All photos by the v. talented Hope Little
*
If you like what we're doing, join us on:
INSTAGRAM, TWITTER, and FACEBOOK
Get your copy of:
THE REBEL MAMA'S HANDBOOK FOR (COOL) MOMS
*