Our picante little #rebelchef, Shontelle, is currently on vacation in my favourite place in the world – Tulum, Mexico.  This means 2 things:
With every photo she posts to Instagram, I have to resist the urge to hate her a little bit.

She's enjoying some of the most fresh & delicious food on the planet

*must not hate, must not hate*

; which, lucky for us, means she is filling up on inspiration with every bite that passes her lips.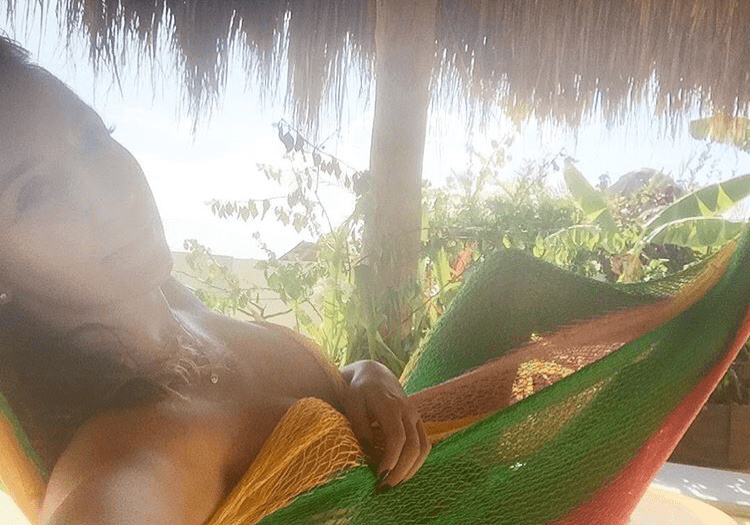 Naturally, while basking in the land of guacamole and tacos, she felt the urge to put her Rebel Chef spin on a classic, Mexican, family-style meal. For anyone out there whose 3 least favourite words ever are: "what's for dinner?" (ahem, all mothers everywhere), this easy, tasty, slow-cooker-friendly, crowd pleaser is just what the doctor ordered.
This meal is a major winner for a few reasons: it's hearty and warm (perfect for icky winter nights), demands participation from the kiddies (make your own damn taco), and it's bursting with flavours that even the tiniest of pallets will enjoy.  So one night this week, boldly declare that you are not making a "kid meal" and an "adult meal". Tell your spawn that Casa de Mommy only has one delicious thing on the menu (and it ain't beige, dino-shaped chicken nuggets) and bring the whole family together to enjoy this belly filling, heart warming meal. 
CARNITAS – DE MÉXICO CON AMOR
BY: SHONTELLE PINCH
Serves: 6-8 people
Prep: 10 minutes
Cook Time: 8 hours (or until tender)
INGREDIENTS
2½ pounds bone-in pork shoulder (2 pounds boneless)

Salt (Kosher or sea salt)

Black pepper (freshly ground if you have it, regular if you don't)

2 teaspoons dried oregano (Mexican)

1 teaspoon ground cumin

1 teaspoon Cinnamon

1/2 teaspoon of cayenne

4 cloves of garlic, smashed (organic if possible)

1/2 cup of salsa (Mexican preferable)

1 tablespoon coconut oil

1 onion, cut into quarters

1 jalapeno, seeded and ribs removed, roughly chopped

1 orange

3 tablespoons coconut oil
INSTRUCTIONS
Rinse and dry the pork shoulder. Salt and pepper liberally. Place pork shoulder in a slow cooker.

Mix together the oregano, cumin, garlic and coconut  oil. Spread half of the oil mixture on one side of the pork shoulder, flip over and then rub the rest of the oil mixture on the other side of the pork shoulder.

Put the onion and jalapeno in the slow cooker with the meat. (Place on top and around)

Cut the orange in half and squeeze juice into the slow cooker (or an oven-safe pot). Place the orange halves inside as well and add the salsa.  Cook on low for 8-10 hrs (I cooked it on low for 8 hours), flipping the meat over halfway through.

Once the meat is super tender, turn off the slow cooker and remove the meat. Pull the meat apart with a fork (discarding the bone if using a bone-in shoulder).

Heat coconut oil in a large sauté pan over high heat. Evenly layer the carnitas in the pan once the pan is hot and cook just one side until you get a nice crispy edge.

Remove from heat, stir together, do a little taste test and add a bit of salt if needed (probably not needed, but check anyway).
FOR THE SHELLS:
Simply warm them in a frying pan (non stick) with nothing in it. You can also warm them ahead of time and place them back in the bag them come in. They will stay warm and soft.
FOR THE GARNISHES:
As for garnishes I urge you to keep it authentic – Chop fresh cilantro, peel and slice an avocado and squeeze lime.
Additionally you can add pickled onions. (I LOVE pickled onions. Who doesn't?)
Here's a quick how-to:
INGREDIENTS:
1medium red onion, thinly sliced

½ cup apple cider vinegar

1 cup warm water

1 tablespoon sugar

1½ teaspoons Kosher salt
INSTRUCTIONS:
Combine apple cider vinegar, water, sugar, and salt in a medium bowl. Whisk together until sugar and salt is fully dissolved.

For a quick-fix, place onion in a jar or bowl (I like to use a mason jar). Pour vinegar mixture over the onions and let sit at room temperature for at least 1 hour.

If you're making this ahead of time, cover jar or bowl and place in refrigerator for at least 1 day. Pickled onions will last for a few weeks stored in the refrigerator.

Use pickled onions to top tacos, nachos, burgers, salads and more!
Now, I've mentioned a few Mexican products above. Half the fun in cooking Mexican is shopping for the supplies and immersing ourselves in the culture, even if we're a few thousand kilometers north of the border. If you're in Toronto, I strongly suggest that you to take a stroll through Kensington Market. There are a number of Latin stores to suit all your needs. I personally buy my tortillas at La Tortilleria on Augusta st. Fresh is key and they have an assortment of types (white corn is my all time favourite).
BUEN PROVECHO!
😉
Keep up with Shontelle:
Follow her on Instagram and Twitter or check her out Website!