Marisa is one of those effortlessly chic gals you may catch walking in her neighbourhood of Queen West one afternoon, and wonder how she keeps it so cool. A hippie minx with a street edge who is tough to duplicate, with a gene pool as diverse as the city itself (a gorgeous Ukranian/Chinese mix), and a quiet confidence that easily makes everything she chooses to wear look fabulous.
I met Ms. Marisa Buchkowsky  years ago when we worked together under an original TO style maven,  Lisa Corbo. We hit it off instantly with our mutual love of easy style, hiphop and the bar top at Terroni (Queen). The rest is history, with a lot of late nights in between.
When she became a mother to her son Valentine (with her seriously cool baby daddy Ryan) I immediately stepped up to the plate and promised to help guide her through the dark times (also know as month 0-3) even after she purposely tried to wake up my baby the summer prior because, she's silly like that. (She later apologized; she knows better now.)
When we're together, it's always a fun time where we laugh more than we actually speak. Although we don't hang as often as we'd like to (all the time), it's still just as awesome when we do. I'm so proud to see how far my dear friend has come and all the incredible things she's still accomplishing.
Without further ado, meet my girl Marisa: Co-owner of Summerhill's Narwhal Boutique, and fan-fuckin-tastic mother.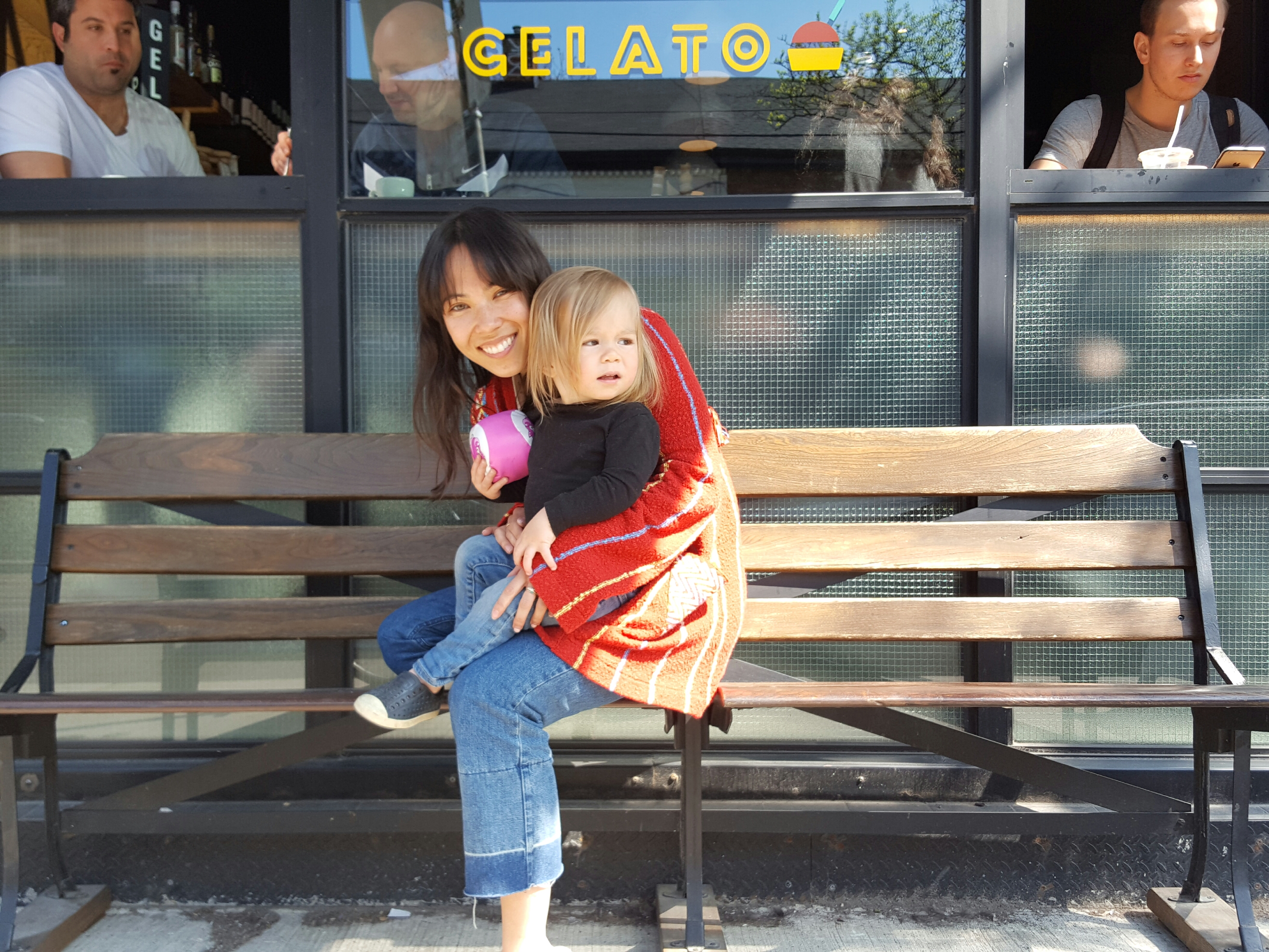 You run a super stylish and very successful shop in Toronto (The Narwhal) – how do you stay on trend while carving out your own unique image and brand?
I think it's really easy to stay on trend when you have the privilege of working with so many talented designers, whom you admire and adore.  Every season, designers like Rachel, Ulla and Raquel (some of my personal faves)… come out with killer collections which outdo themselves every single time – just when you thought it couldn't get any better.  Having working relationships with these amazing designers while remembering my own personal style allows me to pick pieces from each collection that I envision myself wearing in my every day life.
Retail is a tough and time-consuming industry, especially when you're at the helm. How do you balance your mom duties, while being available to your other full time baby?
Having a business partner, reliable staff and also a supportive life partner make all the difference in the world.  I couldn't imagine making a go at this solo.  It also just wouldn't be as fun!  It's great to share in the experience of owning your own boutique with someone who is in it for all the same reasons, who treats it like their baby, with pride, and understands that finding a work/life balance is so important to maintaining sanity, and more importantly, happiness.
How do you stay comfortable without looking sloppy when you're on mama duty? Favourite pieces?
Wear comfortable shoes and clothes you LOVE.  Right now, I am obsessed with Maryam Nassir Zadeh footwear – super stylish and very on point right now, but also SO comfy with a range of heel heights.  Also on the regular, I can always count on my Woman by Common Projects sneakers when I want to look chic, but still run around like a crazy woman.  If you wear clothes you love and that make you happy, you will most likely be comfortable and feel great.  When you feel great, it radiates, therefore, you'll look great no matter what.
You keep it pretty natural in the beauty department, but what does your beauty routine look like? What are the few products in your arsenal you cannot live without? 
I am pretty boring when it comes to this question, because I don't think I have a very interesting beauty routine… I always wash my face with clear liquid Ivory soap (something I've been using since childhood and my mom has always used, still to this day…) and then I moisturize, usually with Kiehl's Ultra Facial Cream.  So right now, I am really into not wearing any make-up (probably mainly because I am lazy) , therefore I'm just striving for perfectly glowing skin.  So, in the morning, sometimes I will mix in Josie Maran's Argan Illuminizer for an overall radiant glow.  I also always use Vaseline for my lips.
How does your knack for effortless style rub off on your kid (or rather, what are your favourite ways to style the lil dude?)
I think I always just want him to feel comfortable right now more than anything.  I like choosing soft, natural fabrics, and also playing with colour since he's a kid and I feel like kids can get away with all the bright, vibrant colours, fun patterns and playful vibes.  I also think it's fun to dress him in ways that complement the way I dress, like matching Raquel prints. (It happens).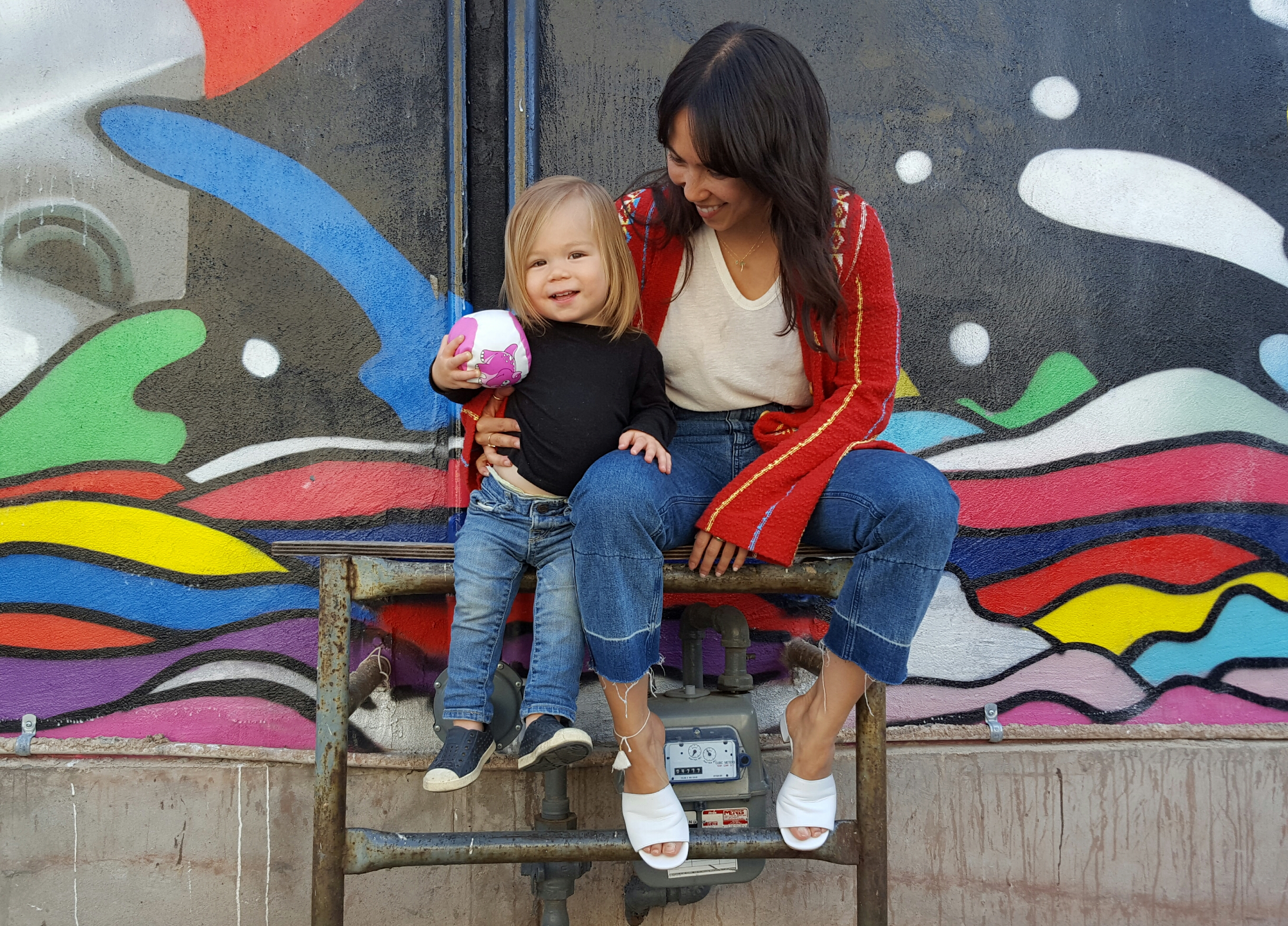 Your son's name – Valentine – not only is uncommon, but timeless and beautiful. How did you land on it?
Thank you!  Ryan gets all the credit for that one.  He actually had a vision one day while he was working (while I was still pregnant) that a little blond-haired boy ran up to him and his name was Valentine.  From that point on, he was set on the name, even while I tossed around a million different name options daily.  Luckily, I ended up loving it too and it became the perfect name for us.  It stands for strength and health which we also loved.
What's your favourite way to spend time with your man, and stay close and connected?
On vacation, where we feel inspired, revitalized and free.  Or, in our home or on our patio outside, with a glass of wine and good conversation which hopefully ends up with him making me laugh.
What's your biggest challenge at the moment (as a mother)? And how are you dealing? 
Trying to find the time to do everything.  It's hard… Being a working mom, being there for your child, trying to constantly come up with new/fun things to do with your kid, maintaining a connection with your partner, maintaining a social life, staying connected with friends and family, finding time to exercise, maintain a household, do groceries, run errands… Shit, even stuff like trying to schedule a time to get a hair cut… and the list goes on. You don't always get to do it all at once, but if you can do all of it eventually over the course of a period of time, it's an accomplishment.  It is for me at least.  I try not to get overwhelmed and remind myself that I can only do the best I can.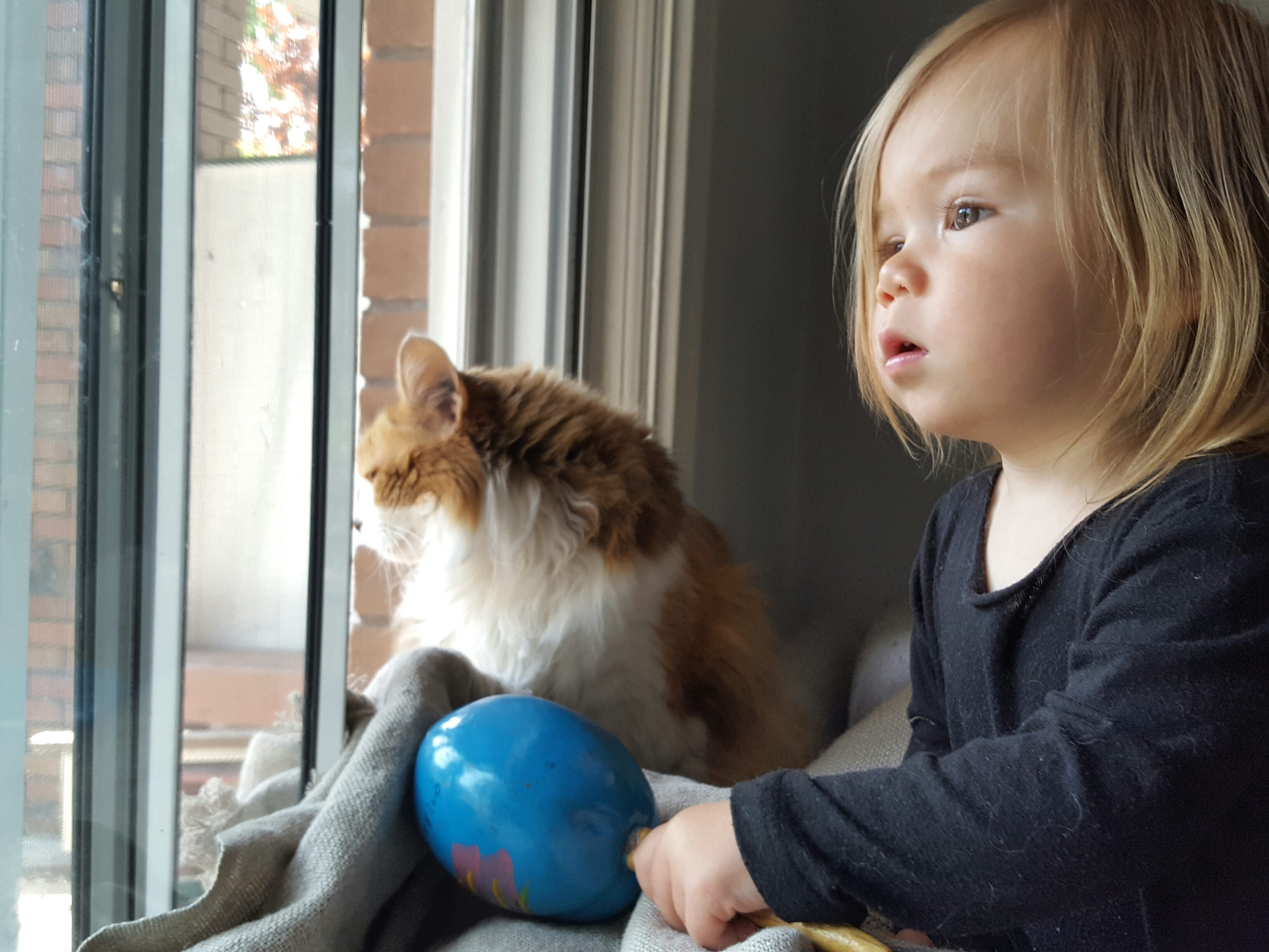 If you could give one piece of advice to new mamas, what would it be?
Girl, when it comes to babies, you cannot control everything.
Do what feels right for you and don't let anyone tell you different.
What's your guilty pleasure? 
Chips and TV.
*
Visit Narwhal Boutique at 8 Price Street, in Toronto 
(Ironically around the corner from Terroni) 
Photos by Aleksandra Jassem