One thing you should know about me is that I love shopping for Back to School. That's right – backpacks, lunch bags, labels – all of it makes me giddy. Maybe it's the thought of bringing my house back to a routine that gets me excited, but whatever it is, I've become really good at prepping for school. Which is surprising, because I'm usually last minute in most things shopping related and notoriously go shopping for an outfit hours before an event begins.
I know that many of you, especially those with kiddies starting JK this September, are trying to source what to buy and where. You're looking for something that meets your fashion sensibility but is convenient for your kiddo, too.
I know looking online can be hard, especially when trying to judge the right size. Trust me, I have a dozen little backpacks at home that only work with my toddler and an American Girl. So, with these parameters in mind, and to help you avoid my past mistakes, here's a list of some of the best out there and some tips to give you a little bit of ease while navigating the Back to School shopping realm.
BACKPACKS
Here's the thing about backpacks: Most of them don't look like the Fall 2016 lookbook from Chloé; rather, they're a tacky smorgasbord of stripes, hearts, spaceships and fire trucks. While I know some of you may be gagging at the thought of buying a Frozen backpack, the truth is the ones made for kids are the ones that are most convenient in the long run.
Here are some things you want to look for:
A bag with pouches on the outside for bottled water
Two zipper compartments to help you separate the food that may spill from the work they bring home
Padding on the straps
A backpack that will comfortably fit:

Lunch bag
Communication bag (huge ziploc provided by teachers which brings home class calendars, student work, notes, etc.)
A ziploc with extra clothes, just in case
Library bags
Remember, you may be packing it in the morning, but they are on their own at school, and a 5 year old is not going to Tetris all of these things into the sleek bag you wanted to buy. So keep in mind, if they can't make it fit, chances are it won't make it back home.
In an attempt to let you know what's good – here are some that I've found:
Herschel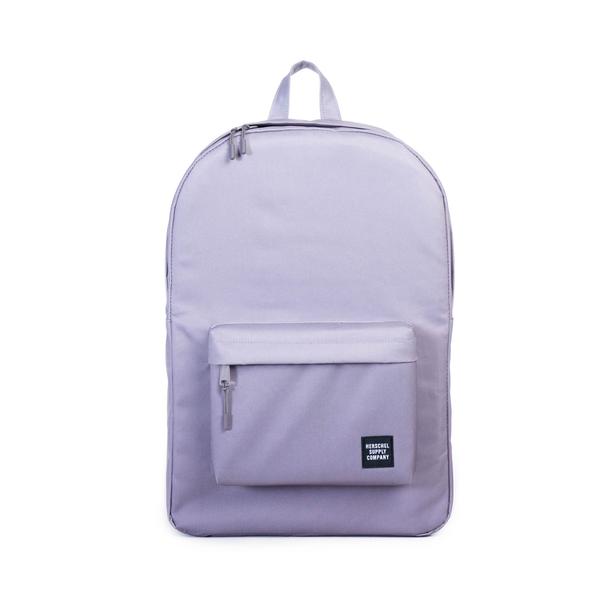 At $49.99, the Herschel Classic Backpack is good for school age kids (grade one and higher) if you want a great looking, durable bag. With a variety of solid colours, you aren't going to mind holding it either. It just won't give you a place for your water bottle, and it's a bit of a tight squeeze if you get a big lunch bag.
Lands' End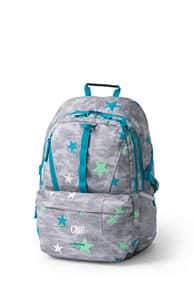 Starting at $53.25 for the ClassMate, Lands' End makes quality backpacks that range in tons of sizes and styles. Bonus, for your older kids the Digital ClassMate allows for safe storage of laptops and iPads. They also offer matching lunch bags.
Jansport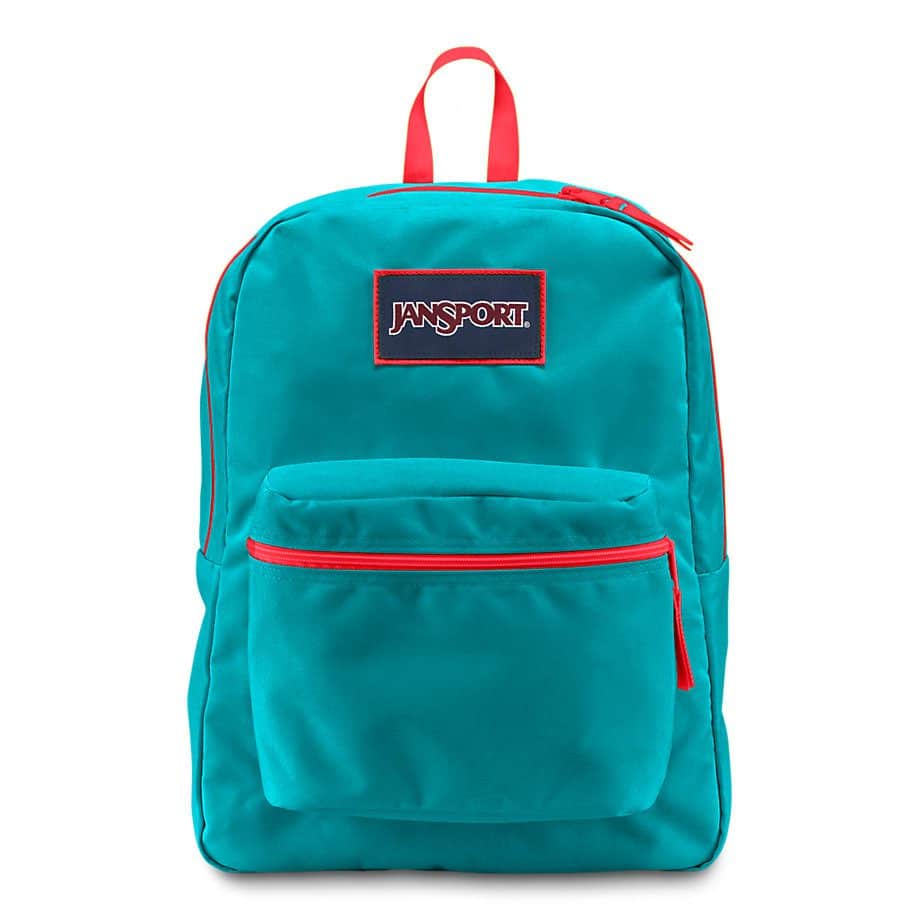 The Superbreak backpack at $36 is a great buy for a classic and truly, there are a million different colours and patterns to choose from. The catch: to get the water pouch and double large zipper compartments, you gotta shop online.
Pottery Barn Kids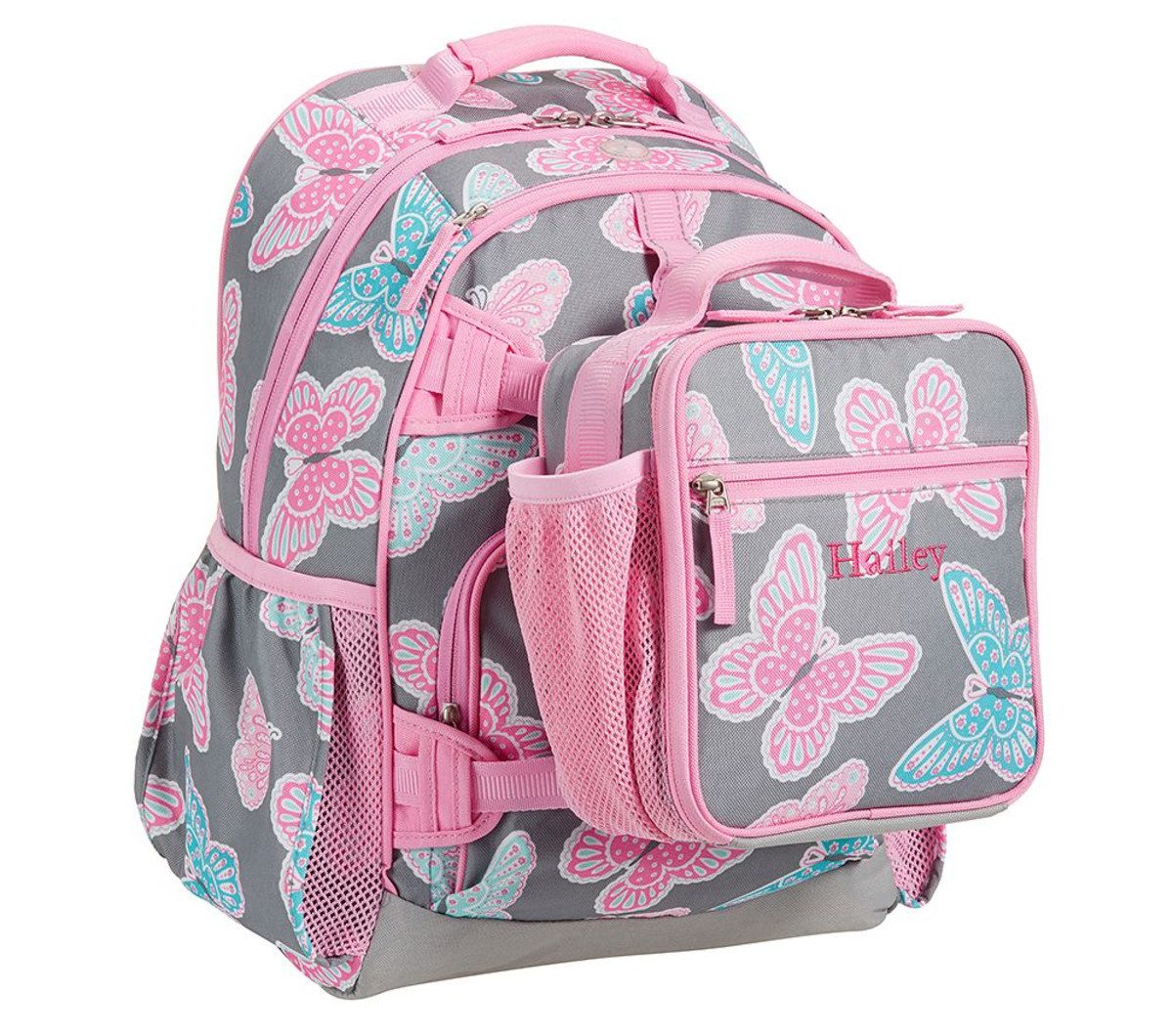 From Marvel, to WWF (the wildlife organization, not wrestling), to hearts and polka dots, Pottery Barn Kids does it right for kids. While you won't find the solids that match your own personal black on black on black style (raise hands in unison), the matching lunch bags can clip on the outside or fit easily on the inside, the straps are sturdy and they can take a licking in the playground. Oh, and currently, they are on sale for 20% off.
So Young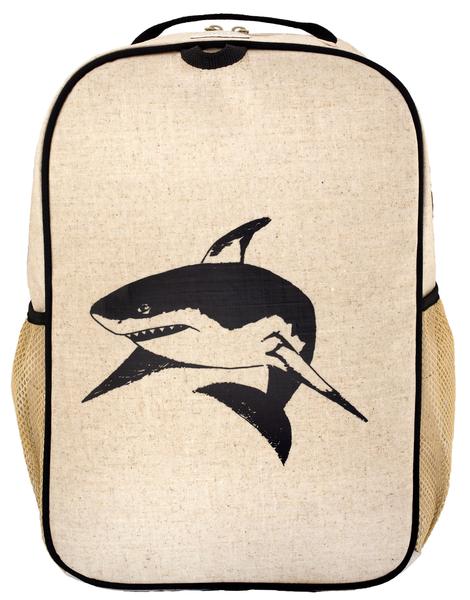 These Raw Linen backpacks are so stylish, you can't resist. At $54.99, and with a variety of animals to choose from, you'll be okay with telling your kid, "pick the one you like". Be warned, the matching lunch bags are awesome at $34.99, but don't exactly fit nicely in the bag. But they do come with a strap that kids can wear as a cross-body.
MEC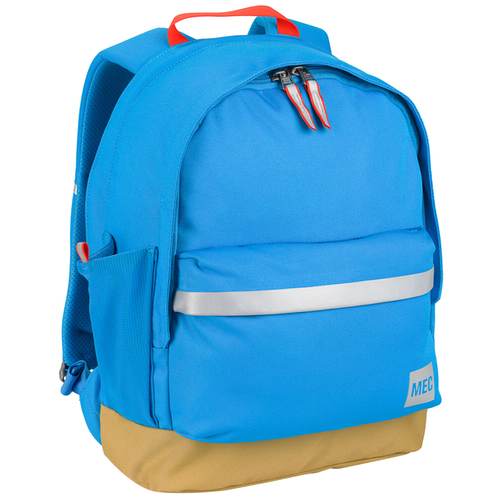 MEC makes an amazing bag. This one is $36, but you can get the Deluxe Book Bag for your older child at $54.
Some other great options include Fjallraven, Parkland, Kipling, Etsy, a field trip to Winners for a score and, of course, there's always – gasp – Disney, because you know your kids want Elsa, or Dory, or Captain America, and they've got it all – much to your chagrin.
And finally, if you want to say screw it and get something you will carry with ease, may I suggest to send your little one to school with a grocery bag, and go out and get yourself this from Céline: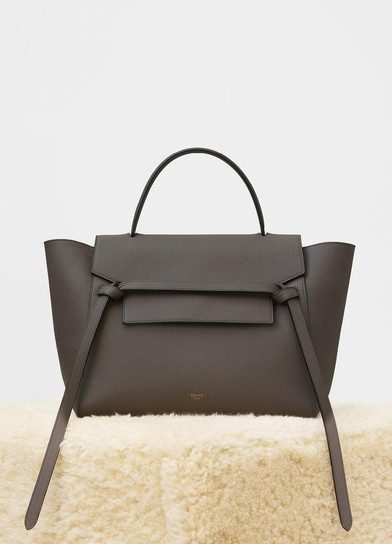 LUNCH BAGS
Here's the thing, a lunch bag will take up a lot of space in your kid's backpack. You won't avoid this, no matter what ads may suggest. Unless, of course, they can clip to the outside of the bag, or your child is older and can carry it along with the backpack, be prepared for the bulk. What you really should be worried about is durability and protection from spills.
There are tons of different styles, and while you can literally find a million varieties, in every colour and pattern imaginable, if you don't want left over lunch to meet homework, get a bag with a zipper, and protective lining. Oh, and teach you kiddo how to close that bag properly. FYI, if you are into matching, many of the bags listed above have accompanying lunch bags.
And remember, while you may want to get the one that's thin and sleek, remember schools want you to bring litter-less lunches, and thermos', tupperware and cutlery just don't work with thin and sleek.
Parkland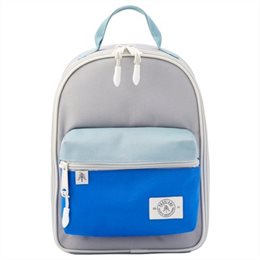 This cutie by Parkland comes in many different colours and is awesome for $29.95.
Herschel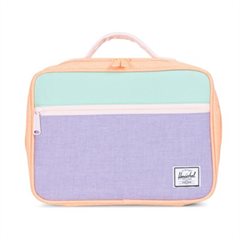 So many awesome palettes when Herschel makes lunch bags. This Pop Quiz Lunchbox at $44.99 is great. Maybe pick a pattern that you don't have to wash after every use.
Yumbox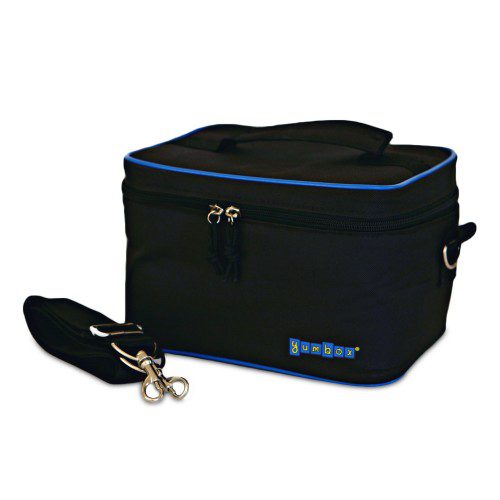 This one, from Yumbox is a steal at $15, and has a top zipper if you are looking to pack hot lunches in a thermos and are want to avoid tipping.
Fit and Fresh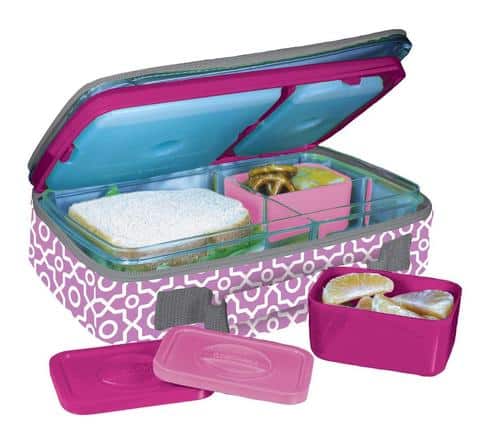 When the lunch bag comes with ice packs and containers, life is good. This one you can find at IQ living, and as pretty awesome for $31.99.
Storage Containers and Cutlery:
Storage containers that are durable, easy to seal and look great are far easier to find these days. Here are some that I've used and are great.
Light My Fire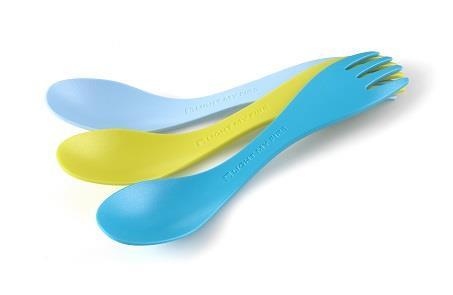 I found these at IQ Living – which I love, by the way – and they are honestly the best. A 3-pack of these Sporks at $10.99, and your kid can decide how to eat the macaroni without complaining at the end of the day that she couldn't eat said pasta because you packed a fork and not a spoon.
Fit and Fresh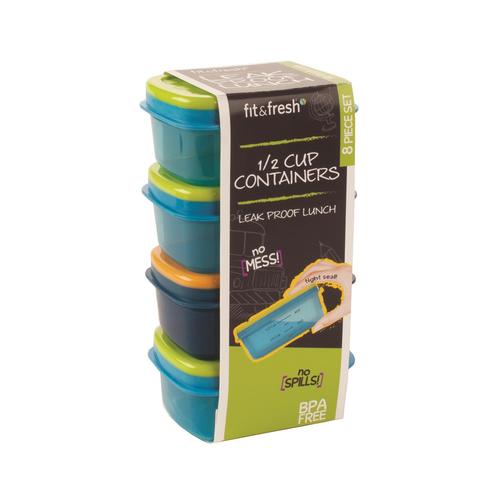 This pack of four is perfect for snacks, and each come with reusable ice packs that snap into the lid. A score at $14.99.
Thermos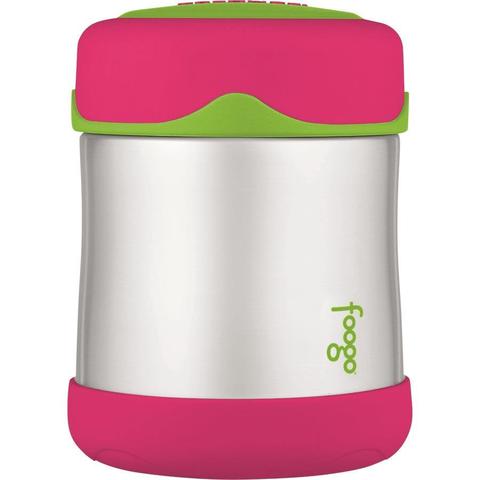 There may be other insulated food jars, but really just buy Thermos. They never die, and are easy for kids to use. Also, if you want one with Elsa or Spiderman plastered on it, you can easily find one to fit your kiddo's current obsession. Kitchen Stuff Plus has a ton to please.
U Konserve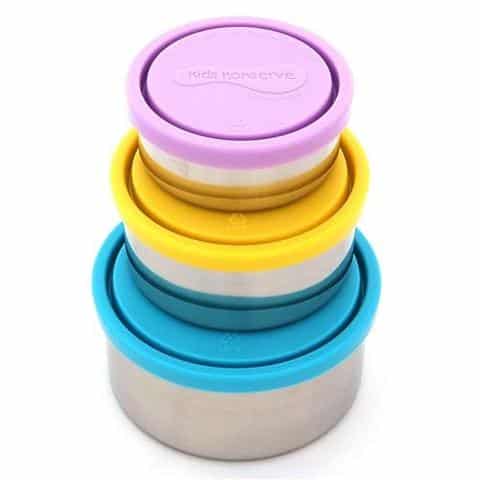 If you don't want plastic, these metal containers come in a variety of colours, and are available at a variety of stores.
Yumbox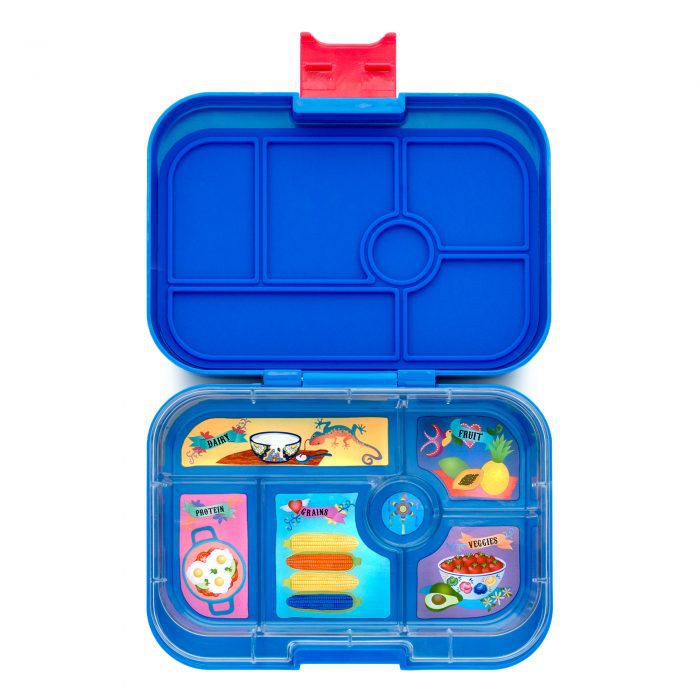 If bento boxes are your thing, these colourful ones from Yumbox will do the trick at $28. Keep in mind that JK/SK kids have AM and PM snack, so you may not want to pack everything together.
Lunchbots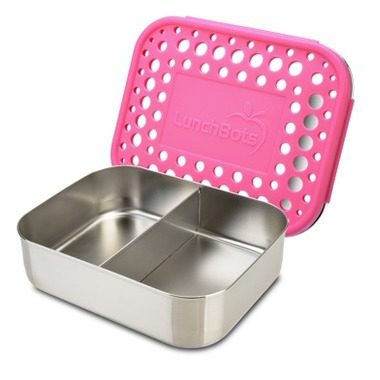 With all sorts of configurations, Lunchbots are great steel options. (FYI, if you are willing to pay in US and for shipping, Planet Box is amazing, too).
Sistema Klip It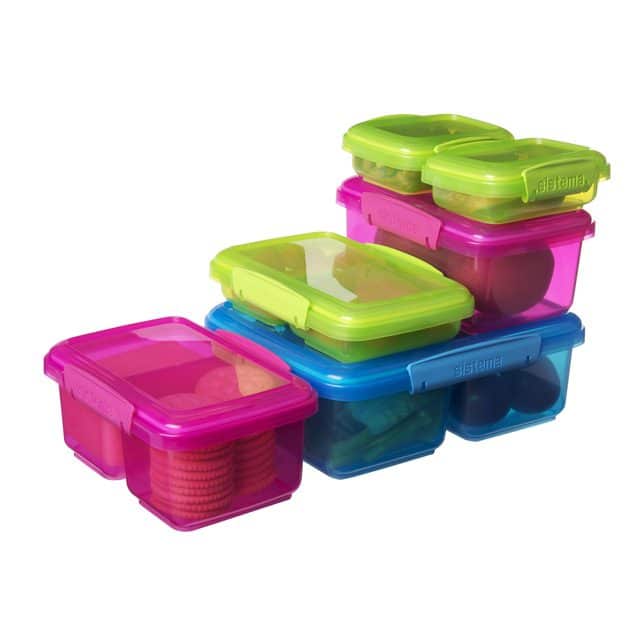 Clear or colourful, these containers are great because they snap shut (and aren't hard for kids to shut either) and come in any size configuration you can imagine. I found these at Kitchen Stuff Plus.
Water bottles:
S'well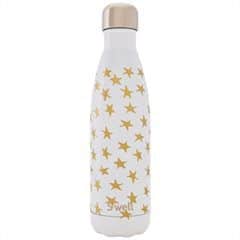 If you can trust you kiddo with a $50 water bottle, go for it. You can choose a nice solid, or this star pattern, among others at Indigo.
Contigo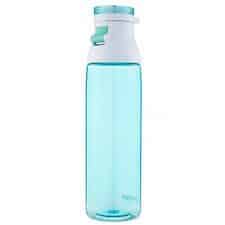 Cheap, cheerful, and they do not leak. These bottles have Autoseal technology, which basically means it vacuum seals and won't leak a drip. Two of these bottles are under $20. They also have stainless steel options, if you are interested.
Thermos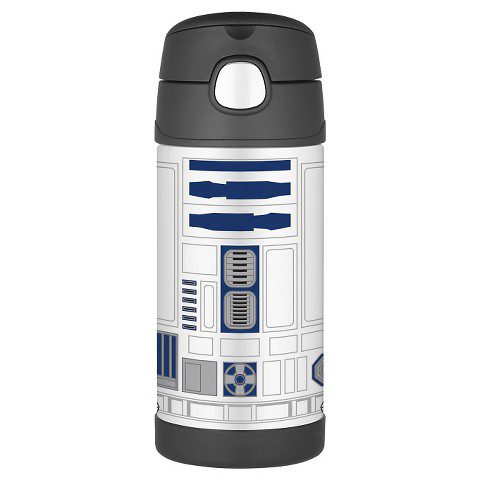 This one is Star Wars, but they also come in come in solid colours. These water bottles are durable, keep the water cold, and are easy to clean. At around $20, they'll take a beating and will stay in tact. You can also find them everywhere.
Labels:
So, how are you going to make sure all this stuff comes back to you? Label everything. Put away the sharpie, and take a visit to Mabel's Labels. Combo packs ($42) give you labels for everything from storage and backpacks, to shoes and winter coats; one package could last you years. Also, they are microwave safe, dishwasher safe, laundry safe, and waterproof. Truthfully, if you are thinking $42 is a lot for a bunch of stickers, think of how much the rest of this stuff costs and you'll want to put your child's name on everything.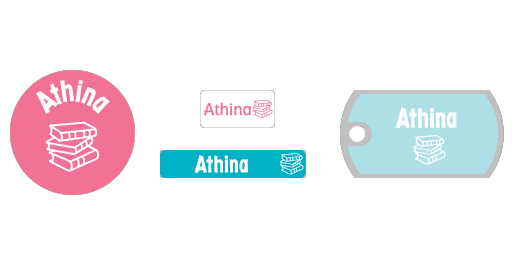 So, there you have it. A list that will get you most of what you need, without spending hours at a mall. And if you are like me, you'll pour yourself a glass of wine and engage in the sport of online shopping.
May I suggest the following bottles for your pleasure (which, by the way you can ALSO purchase online at LCBO – it's like they heard our prayers…)
Santo Santorini, Assyrtiko $14.95
A nice light white that will keep that breezy summer mode going long into September.
Grange of Prince Edward Pinot Noir, VQA $19.20
A light to medium red for an even easier online shopping experience.
Cannonball Cabernet Sauvignon, Napa Valley $24.95
A medium to full red for a job well done sister.
Marchesi Di Barolo La Tradizione, Barolo Nebbiolo $34.95
A rich full red because you just spent way too much money on this shit.