A few weeks ago, I had the pleasure of pulling my back due to a walk back from the park that involved carrying my not-so-feather-light 2 year old on my shoulders for an entire four blocks (because you know, screw walking home from the park right now mom). I must have motioned the wrong way, when suddenly I felt a strong and very painful surge run down my spine and completely freeze up my lower back. Needless to say, my now forcefully walking toddler wasn't making it easier to get home.
What I would have given for a massage that day.
Too bad the only time I ever actually get one is if a kind friend gifts me a GC to a spa, otherwise… they are few and far between. Besides, I tend to only get massages when I'm already knee deep in pain and can barely function.
But what if I told you that apparently getting massages on a regular basis can be therapeutic, preventative and overall great for the well being?! (Think facials –  same idea). It's also a great natural alternative to splashing cash on countless pain and muscle relief meds that only do damage to your liver.
These are just a few of the things I learned after the brand new, Toronto-based Massago reached out to us Rebels in hopes of a review. I would be stupid to turn away a quality rub down, so of course I accepted with open arms. #perksofthejob
So if you've recently declared something along the lines of "OMG, can someone please just come rub my feet right now?!" I'm here to tell you it's possible. It's a thing, guys.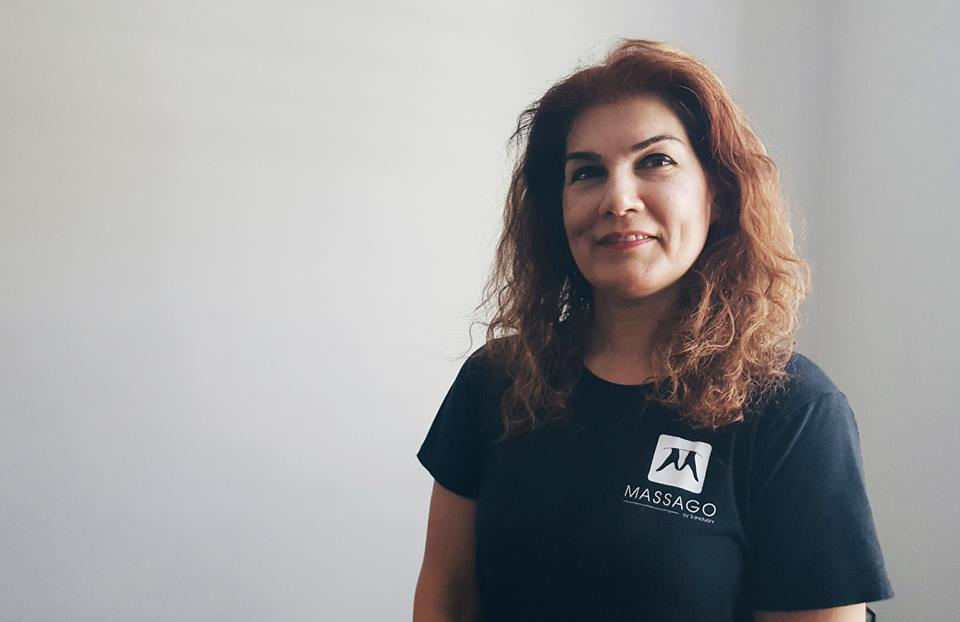 (This was my lovely therapist Mitra, who not only worked out every kink meticulously, but ordered me to have an Epson Salt bath later tonight. Doctor's orders.)
Besides offering up mobile registered Massage Therapists (which is hardly a new idea) this is an actual app, and has been quickly coined as the Uber of Massages (and who doesn't like that idea?!) Let me break it down: you open up your phone, hop onto the app, select your preferred massage, and presto… a professional RMT will be at your door whenever it works best for you. We're talking same day if needed, people. SAME DAY. (I have yet to meet someone that doesn't enjoy instant gratification).
The genius (CEO) behind the operation is Allan Skok, who comes from a serious 17-year background in the spa game at the helm of Sanctuary Day Spas, and the idea of the app was born after he realized a void in the lives of busy people, who just couldn't find the time to get that massage they've been wanting or needing.
Why it's so damn exciting for us mama's?
Well for starters, YOU DON'T HAVE TO LEAVE YOUR HOUSE. God knows that is not an easy feat, and if you can schedule this blissful treat during nap time, you're laughin'.
This is precisely what I did with my appointment and it was just as wonderful as I'd imagined. Kid down at 12:30pm, massage from 1-2pm, and BAM. Mama's feeling awesome upon wakeup and ready to rumble. Plus I managed to escape all the garbage I'd normally not want to make time for like getting ready, driving, parking, waiting, and generally killing my après-massage vibe by sitting in traffic on the way home.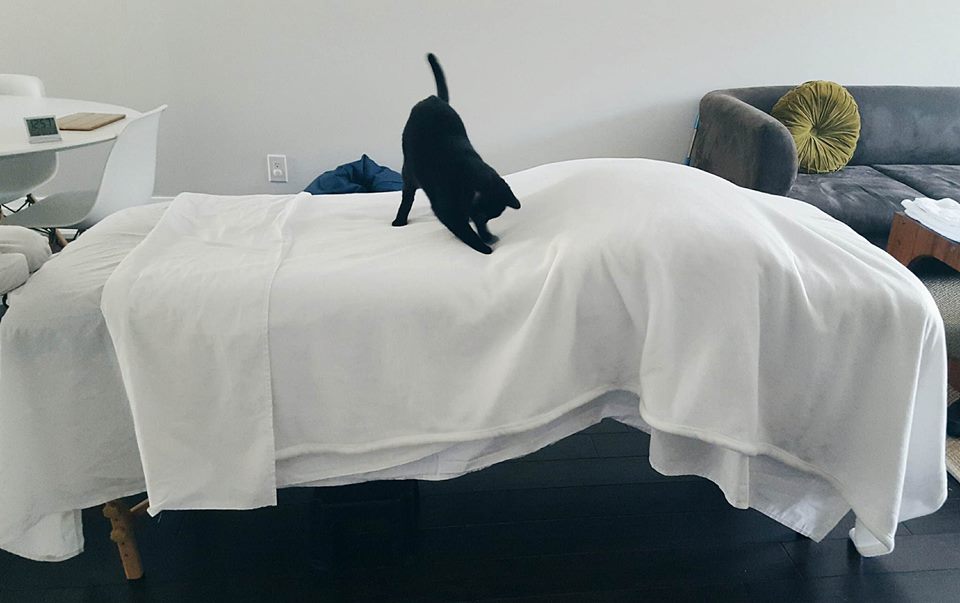 (That's my nosey cat trying to get in on the action) 
Massago offers a variety of services – including Pre-Natal (woohoo – preggo's rejoice!) at increments of 60, 75 and 90 minutes with your choice of male or female starting at $109 a pop. They also thoughtfully include a 15% tip which not only alleviates potential awkward moments, but also ensures each therapist is paid well, therefore attracting the best of the best to the company.
Getting stoked yet? THERE'S MORE. The kind folks at Massago are giving us Rebels a sweet $30 off for the next 30 days (Promo Code: REBELMAMA) so take advantage and have yourself a mini spa sesh smack in the middle of your living room. I even balled out and lit a candle.
So get to those tired feet, you deserve it Mama.
xx A
For all the extra info you may need, visit:  http://massago.ca/
Featured Image via www.pexels.com