A woman and her body – It's a complicated relationship. Housing and birthing a baby tends to complicate things further. On one hand, it's impossible to walk away from the experience without thinking that your body is a powerhouse of strength and endurance; on the other hand, it's difficult to ignore the fact that things have changed. 
Organs and bones and skin have all had to squish or move or stretch to accommodate the growing life in your belly and once that life is earthside, those things can take a while to go back to their original form – sometimes those things never end up making their way back home… but that's a whole other blog post.
This post is for my fellow inbetweeners. The baby's out and body's a bit "off". I'm no expert… but I HAVE been in through this twice in the past 2 years and there are a few things that I know now about the relationship I have with my postpartum body – the most important of which is this:
I've learned that I don't mind the softness. Every part of me looks a little more comfortable to lay on than it was before. It's like nature makes you more cushion-like in order to for you to properly fulfill your new role as a human mattress.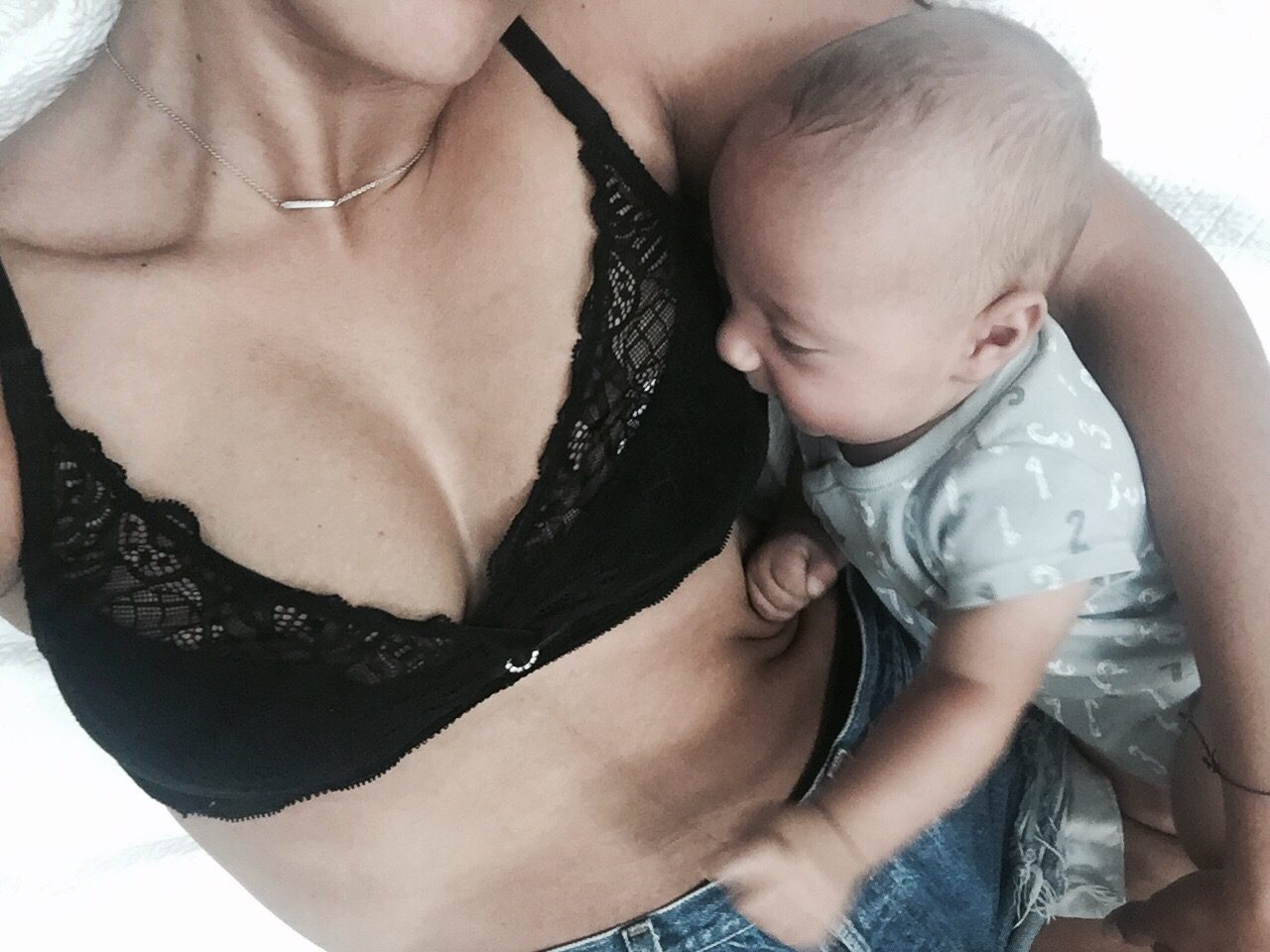 I've personally come to recognize that my postpartum bod is pretty beautiful and I actually feel really good about it – especially when I clothe it properly (once a fashion gal, always a fashion gal).  
If you were to ask me what I would suggest a woman do for herself during the first few months post-birth, I would say that aside from trying to carve out a tiny sliver of the day (everyday) JUST FOR YOU, one of the nicest things you can do for your new mama self (especially if you have a vain streak in you like me) is to go out and buy yourself the following confidence-boosting items:
A high-quality concealer

A  great pair of denim that fits like a glove and doesn't produce love-handles.

A couple comfy tees that are flattering and easy to care for (i.e. only machine wash need apply)

A great haircut (that is, if your hair falls out like mine did #effoffhormones)

A beautiful nursing bra
The final item on my must-have list is one that I have added pretty recently. Somehow, during the 20 months for which I nursed my first son, I survived with a handful of nursing singlets and one "bra" (I put that in quotations because the thing looks like a sports bra/training-bra hybrid. Terrible).
To be completely honest with you, it never even crossed my mind to go on the hunt for a beautiful nursing bra. I lived most of my pre-baby life in lacey triangle bralettes and after seeing the "pretty" nursing bras in maternity stores – the ones with the hard cup and underwire *shudder* – I just figured I'd stick to my tanks and ride it out 'till I was finished breastfeeding.
The irony is that I've always known that undergarments are the foundation of a good outfit. The wrong underwear can give you lumps you don't even have and a bad bra can add 5 lbs to your torso…why the hell didn't I hunt down the perfect nursing bra the first time I went through this? God knows (I blame the baby brain); but I was not about to make the same mistake twice.
Lucky for me, I recently found everything I have been searching for in a bra (and more) in Toronto-based, Rebel Mama Owned, Mayana Genevière Lingerie.
Pretty, lacey, underwire-free, snap-free, and handmade right here in the city of Toronto (I can literally walk to their factory), this bra is EVERYTHING. The best part? It actually comes in REAL BRA SIZES – not that S M L bullshit. 
When mine arrived, it felt like Christmas. I had forgotten the magic of a good bra. It actually made my perpetually slightly lopsided nursing boobs look HAWT. It gives the right amount of support without looking like a push up and it has a sneaky added feature of a moveable charm that you can slide from left to right to indicate which side you need to nurse on next (although I generally just use "whatever side the nursing pad was on last" as my indicator, but it IS nice having a little back up!).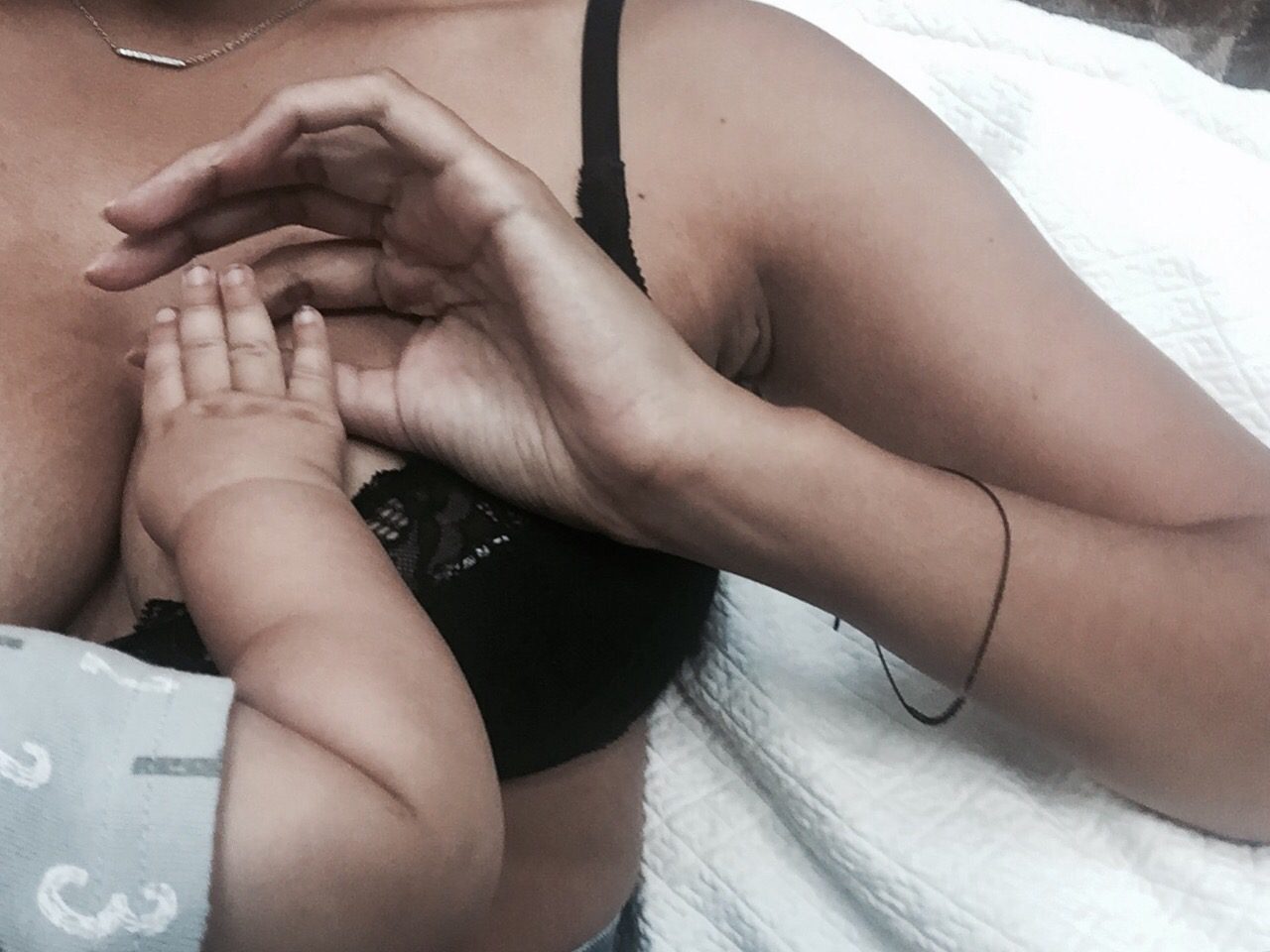 I could go on and on about my beautiful new brassiere, but my love for Mayana Genevière, goes beyond the bra. I love that this company is run by a driven entrepreneur (Hey there, Nadine Woods!) whose own postpartum bra-hunting experience led her to just design her own damn bras since nobody seemed to be doing a good enough job at it. Her passion and dedication to quality as well as ethical fashion production had me gaga for her from the get-go.
But enough about her, and enough about me; back to YOU! Go on with your bad baby-having self. Treat yourself to something that will make you love your postpartum body for all of its weirdness and all of its awesomeness. Whether it's a new pair of denim, a new set of shaggy bangs, or a bra that's actually worthy of your epic, milk-producing books, TREAT YOUR DAMN SELF BECAUSE YOU DESERVE TO BE TREATED.
***
If you need a proper bra in your life, Mayana Genevière wants to hook you up (bra pun intended) with a 10% Rebel Mama discount on their entire collection. Use discount code: REBELMAMA and Enjoy!
Keep up with the ladies of Mayana Geneviere on Facebook, Instagram, and Twitter.