If in your house, the term "dinner" has become synonymous with "the toddler's leftover pasta", then you, my friend, deserve to treat yourself to a delicious, indulgent meal that is strictly for your own culinary pleasure – enter the #rebelchef. This week, she's serving up the recipe for one of her go-to delectable comfort foods: Steamed Clams with Homemade Frites. (But for real, she eats this like 2-3 times a week!)
If you know Shontelle personally, you know that she refuses to conform to "the norm". She believes that we should be treating ourselves to amazing/indulgent meals on the regular, so leave that mom-guilt on the backburner please… Better yet, throw it in the trash, because this one in particular is actually jam packed with vitamins and proteins (don't worry, she breaks them down for us at the end of this post)!
So put the kids to bed, print this recipe out, pour yourself an extremely generous glass of wine, hand the recipe to your husband and tell him to holla at you when it's on the table. (haha just kidding, that would end in a kitchen fire in my house – but, I mean, if you can get away with it, GO FOR IT!)
CLAMS (OR MUSSLES) W/FRITES & VINO
By: Shontelle Pinch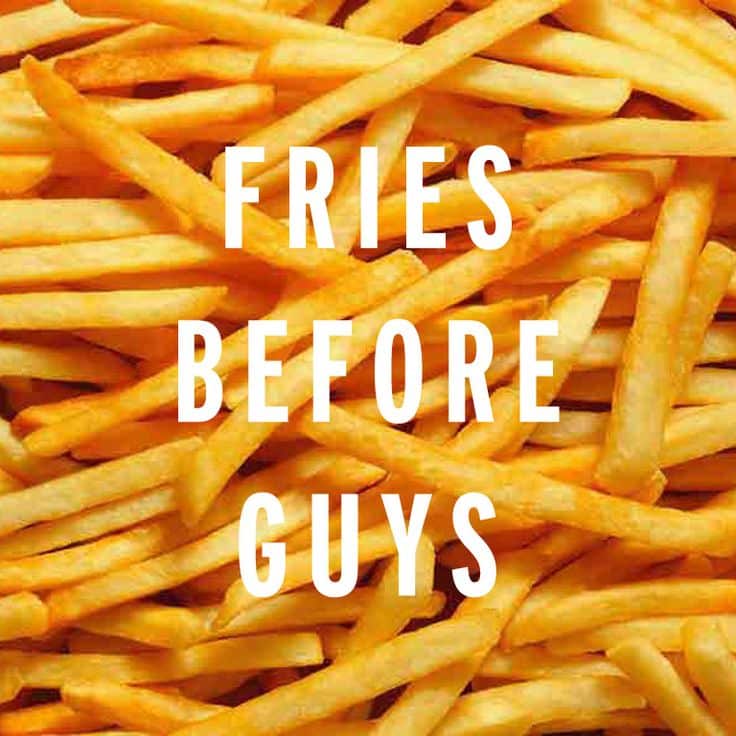 WHAT YOU'LL NEED:
2-4 peeled Russet Potatoes

1lb of clams or mussels (organic/sustainable preferred)

1tbsp organic butter for sauteing

2 cloves of garlic (chopped or slivered – chef's choice)

2 tbsp of white wine (for cooking… plus a big old glass just for you!)

A handful of chopped parsley
*If you care to add a beautiful crusty bread of your choice to sop up the lovely sauce from clams, please do!
FRITES
*Cooked in Beef Tallow or Coconut Oil*
– Fill a deep heavy sauce pan with 5 inches worth of with either beef tallow or coconut oil – get it hot
– Wash and peel potatoes and cut to desired thickness
– Dry potatoes before placing in pan
– Carefully add them to the hot oil/tallow and cook until golden brown. (I double fry mine! How to: Fry over medium-low heat for a few minutes. Remove from pan. Then turn up heat and fry them again until golden! I was always told that the Gourmet Bitches fries were the best and this is why!)
– Remove from pan and place on a plate with paper towel to remove excess grease.
CLAMS
(or Mussles)
– Soak clams (or mussles) in water salted with kosher salt for 30-60 minutes
– In a large frying pan *that has a lid*, add butter and warm up low to medium heat. DO NOT LET IT BURN! Toss in the garlic and saute enough to smell the fabulous aroma (about a minute or two)
– Add clams and shake the the pan for about 30 seconds
– Add the splash of vino and put the lid on right away so you steam those suckers in their own juices
– Now, pour yourself a glass of vino watch those babies cook!
– The dead give away for knowing when they're ready is simple: they open up! (This usually only takes a few minutes… keep an eye on them)
– Voila – they are done! Grab your parsley, toss it in and give it a whirl.
– Pour into a bowl for serving.
WINE PAIRING
I know you've been waiting for this! You can never go wrong with a Spanish White Vino! They never, ever disappoint. Try Alborino. Toss it in the fridge in the morning and enjoy chilled.
Health facts:
The seafood is a good protein source and and it's full of minerals like magnesium,copper, iron. Your omegas are here in a natural form as well.

The potatoes are good for protein (it's actually in the juice of the potatoes) and fiber. If you cook your frites in beef tallow, know that it's full of antioxidants, vitamin A, E, and K). Earing beef tallow is incredible for the skin.

If you cook your seafood with butter, it contains the fat-soluble vitamins (vitamin A, E, K2 *and if grass-fed* Omega 3 & 6, mineral selenium, and vitmain D, which helps in absorbtion of calcium)
If you want to learn more, check out this awesome article about beef tallow french fries!
Bon apitite, Rebels!
Follow #rebelchef Shontelle on Instagram and Twitter or check her out Website!