Yesterday afternoon, we packed up the jerseys and set our sights on ANI+WREN – A chic and stylish maternity-friendly boutique in Summerhill.
Their concept is brilliant. Owned by 2 super sweet sisters-in-law (Lani and Lauren), they decided that preggos deserve better than the run-of-the-mill maternity stores that dominate the mainstream – so what did they do? They did what any Rebel would – they took a risk and did it their own damn way.
With a core philosophy that pregnant women should feel confident and beautiful, rather than feeling like they've settled for clothes that don't truly reflect their personal style, Rebel Mamas Lani and Lauren carefully curated a collection of exclusive maternity and coveted contemporary brands to ensure that all pieces can be worn before, during and after pregnancy.
Add to that all the goodies that a mama-to-be could ever need to feel fabulous (read: shoes, bags, hats, jewels) and you've got yourself a major fashion destination for pregnancy and beyond.
We couldn't have asked for a more perfect fit for our Team Rebel Mama jerseys, and we're proud to announce that there will now be LOTS of Toronto preggos rocking their tees like the absolute boss-babes they are (1 brave gal even came despite the fact that today is her due date! We're thinking about you, girl!).
We want to extend a huge thank you to all the ladies at ANI+WREN for being the most gracious hosts and to everyone who braved the rain to come hang with us – it was an absolute pleasure to help you escape the ridiculous insanity that is Football Sunday.
(Does anyone else's husband think he's on the team too? Like, relax.)
Speaking of those Fantasy Football-Loving weirdos, we also used today's pop-up as an opportunity to share our newest endeavour… MEET THE REBEL PAPA JERSEY!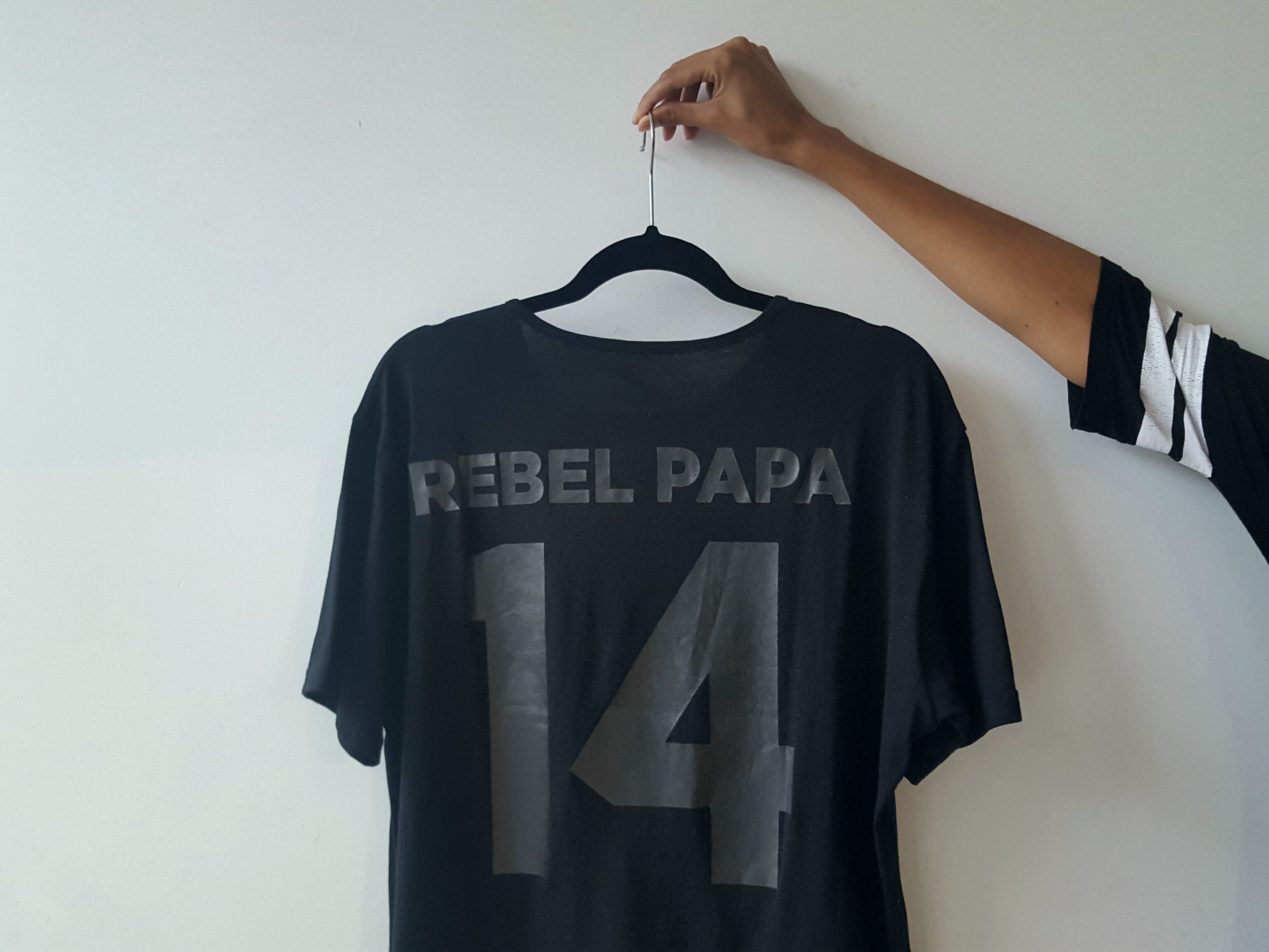 We are now on the final round of sampling for these badass bad-boys, which means you will definitely be able to get your paws on one (or 10) before the holidays! Can I get an Hallelujah?
Now you KNOW we couldn't end the post without hooking you guys up with a little somethin' somethin' – The lovely ladies of ANI+WREN want to help you up the ante on your maternity wardrobe by offering  15% off their amazing selection of (the forever-illusive) cool & flattering maternity denim! Just use Discount Code*, REBELMAMA, at the checkout to take advantage!
Thank you again to everyone who made yesterday a bonifide Sunday-Funday and we promise to let you know as soon as the REBEL PAPA jerseys are up for grabs!
*One week only – Offer ends October 21, 2016. Valid for online orders.
xx
The Rebels
***
STAY IN TOUCH
Shop ANI+WREN online | Follow them on Instagram | Facebook | Twitter
Follow THE REBEL MAMA on: Instagram | Facebook | Twitter
Photos by ALEKS JASSEM