Sometimes Aleks and I sit down and look at our "To Do" lists and die of laughter. There are lots of adjectives out there you could use to describe us… and ambitious-as-hell is definitely one of them!
The good thing about that, though, is that we're starting to get really good at taking ideas and turning them into things. The Team Rebel Mama jerseys are like a first child to us now. We poured a lot of love into those babies and now they adorn the backs of some seriously badass women; for that, we are beyond grateful.

But the team is larger than just mamas. Raising kids is no joke and there are A LOT of dads out there doing the damn thing (and doing it well) and we think those papas deserve some love too. Enter: The Rebel Papa jersey.
Different design, same amount of thought, creativity, teamwork and TLC. We love our dudes and we love it when they look fly, so we designed this jersey to be stylish, comfortable and cool.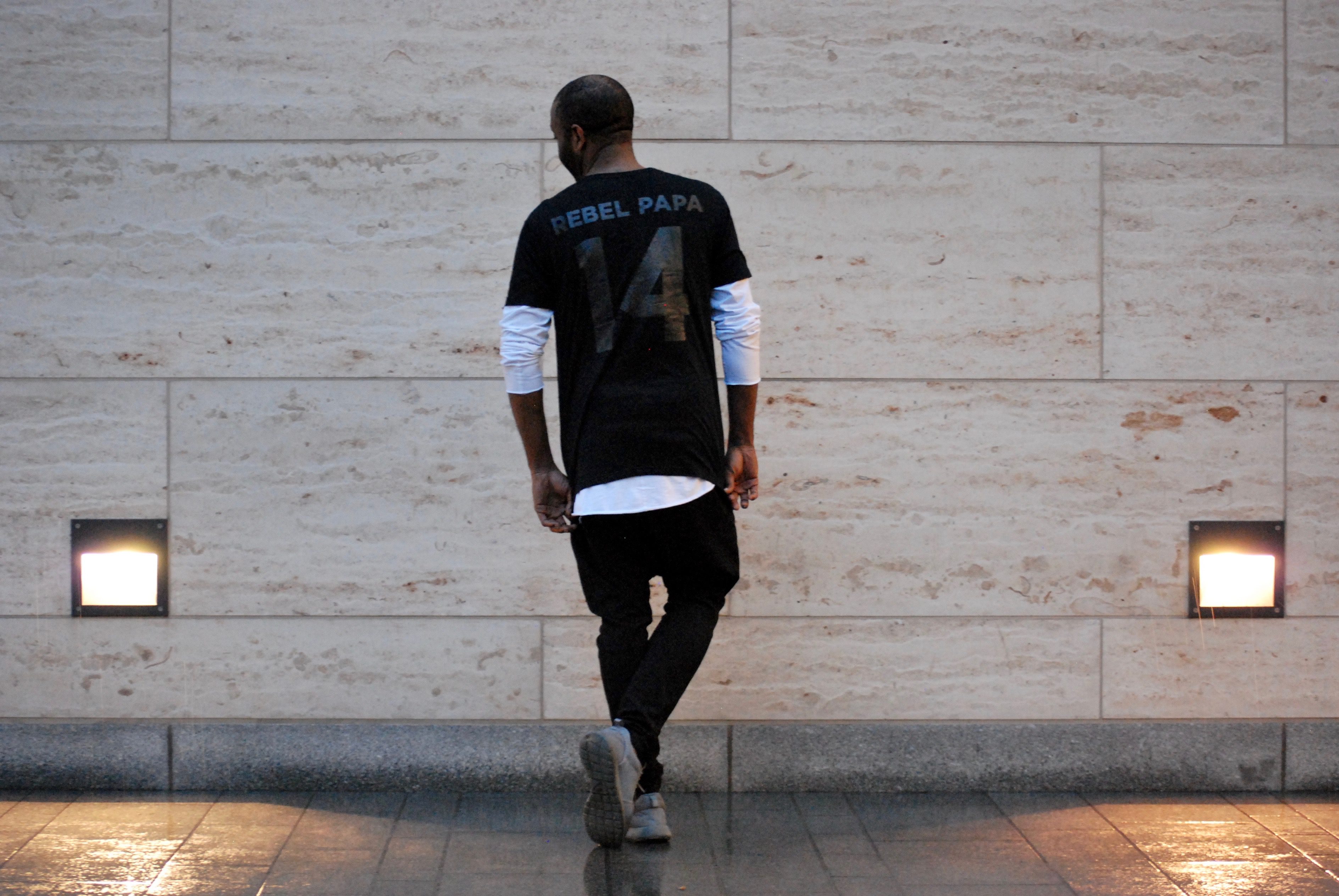 A fun fact you may not know about me is that I worked in luxury menswear for years, and in that time, I got a pretty good feel for what a man looks for in a t-shirt.
It's gotta be soft (so we chose a luxe, 40s cotton fabric)

It's gotta be stylish – but not flashy (hence the black on black and the omission of all the stripes)

It's gotta be flattering (we extended the length in the body and the sleeves to give it a bit of an Alexander Wang vibe)

It's gotta have his babe's stamp of approval (and trust me, there's nothing hotter than a man wearing a jersey showing how much of a proud Papa he is)
We've chosen to create the tees in 2 sizes: M/L and L/XL.
MEDIUM/LARGE
LARGE/XL

Suggested for men who wear suit size 40/42

(will fit a large size 38)

Suggested for men who wear suit size 42/44

(will fit a small size 46)
We couldn't end this post without giving a shout out to everyone who came together to make this project so damn cool…
Andrea Xavier's eye for design (and unparalleled resourcefulness) saves the day for us time and time again.
Peter Scida's Balinese garment production factory, Balilab, is a dream to work with (although I'm pretty confident that our perfectionism drives him slightly bonkers somewhere around the third round of samples).
Donovan Whyte, one of our best pals, an OG Rebel Papa, and celebrity stylist made for the dopest spokes model ever.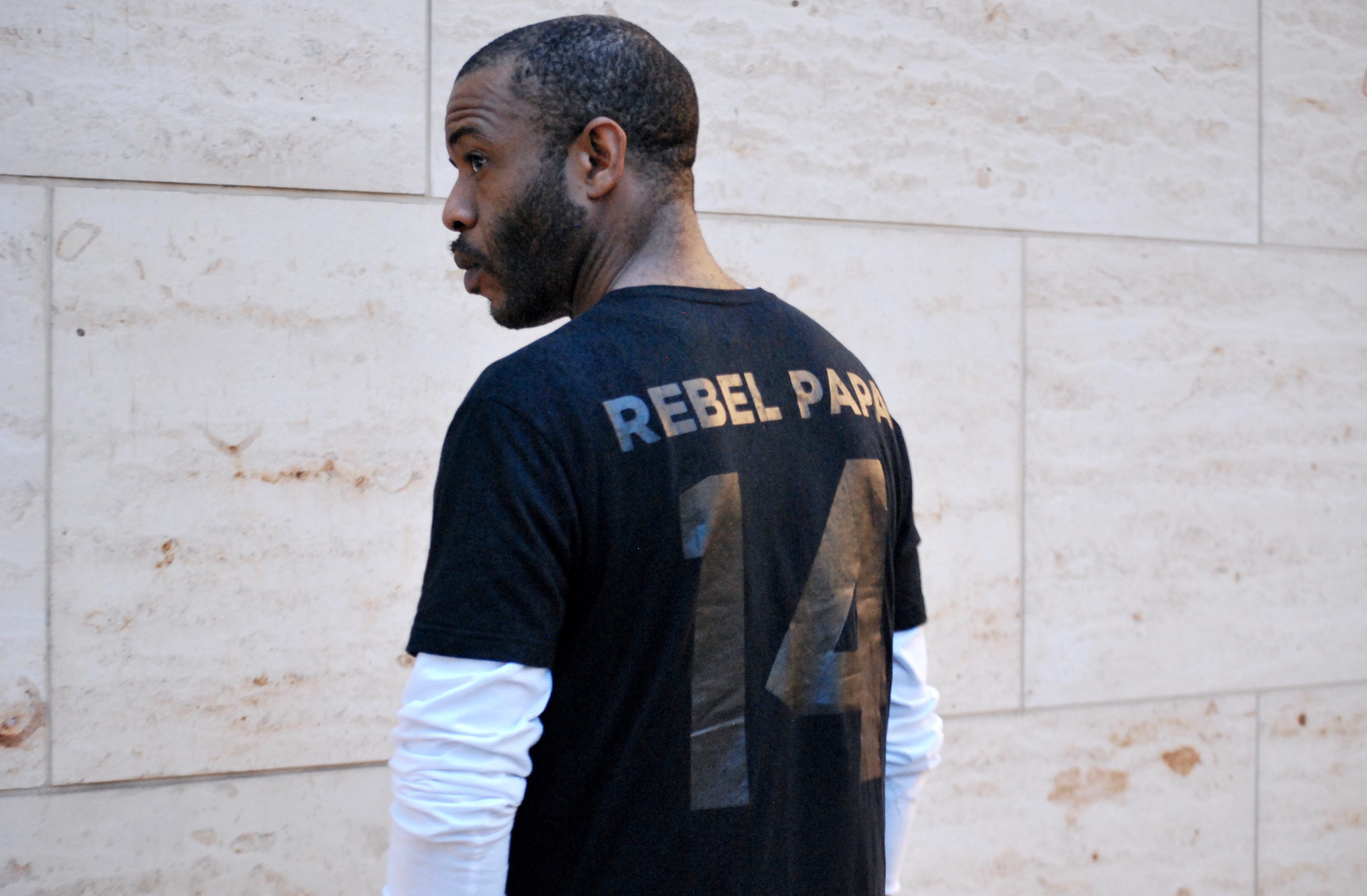 And we're super pumped that Rebel *doggie* Mama, Britt Rawlinson has graciously opened her unbelievably amazing shop, VSP Consignment, to host our REBEL PAPA POP-UP PARTY on Thursday, November 24th (click here for more pop-up info)!
The last and arguably the most important THANK YOU goes out to all of you. You wonderful Rebels have stood by us from the get-go. It is a distinct pleasure to be able to create things that honour you and the beautiful chaos that is your life as a parent.
We know that you will fall in love with the Rebel Papa jerseys as much as you did the Rebel Mama ones (shout out to all the babes out there who are rocking the hell out of theirs – nothing makes our hearts sing like seeing them out on the streets!).
You guys rock and we can't WAIT to see you all next Thursday. Let's get the men suited up!
xx
The Rebels
Photos by Aleksandra Jassem
Follow THE REBEL MAMA on: Instagram / Facebook / Twitter