On Monday morning, we left on a *very* early flight out of Toronto for a *very* short visit to one of our favourite cities: New York! It was while there we heard about Apple's newly announced products that have been buzzing all week… but first – FOOD.
With only 12 hours to spare in the city that doesn't sleep, we made sure to fill our bellies at some of our favourite spots, including Jack's Wife Freda for a quick breakfast and Eataly for an early bird special dinner (obviously). Of course, there was customary stop at the Glossier flagship in SoHo where played with product and marveled at the spectacular interior of the space (and giggled at all the supremely confused male chaperones there #dadlife). But the most impressive part of the day was the moment we realized exactly what Apple announced.
If you're into the tech scene then you already know the new iMac was announced on Tuesday. It is a design masterpiece just like its predecessors but now it's now packed with the latest processors, faster memory and phenomenal graphics – all coming to life on the brightest, most vibrant Retina display ever on a Mac.
A sight for sore eyes to say the least.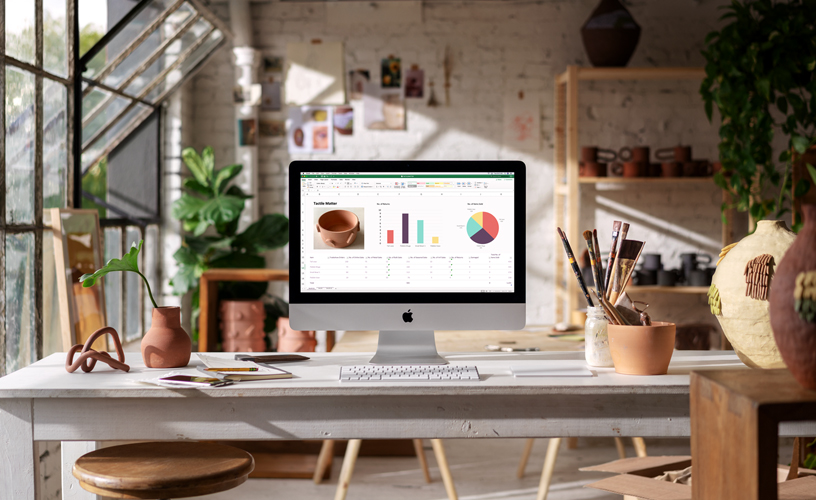 But the pièce de résistance was a small but mighty device that is capable of some seriously epic shit. It's the new iPad Mini: Double the speed of the previous model, compatible with Apple Pencil for the first time ever, and weighing in at just half-a-pound, this little guy fits perfectly into a Rebel Mama clutch (score!) and gives parents access to a world of mind-blowing educational apps for their kids – all for $529.
Yes folks, this is more than just a Netflix / YouTube streaming device (although desperate times call for desperate measures). This thing is a mini science lab (download Plantel to learn about photosynthesis through AR[Augmented Reality – familiarize yourself with this term. It is the future!] using the houseplants in your living room). It's a language teacher (the Rosetta Stone app will have your kids saying "thanks for dinner, Mom" in Cantonese in no time). It's even a nudge outdoors (download Playground Physics for an interactive way for your kids to use AR to lean about the physics behind their favourite playgrounds in your neighbourhood)
If you're going to hand your kid an iPad (Mini) in hopes they'll sit still for an hour / give you some peace on a flight, you may as well offer apps that are educational and support development, right?
Rebel Mama App Favourites Include:
FOR LITTLE KIDS:
Wonderscope uses Augmented Reality to transform ordinary spaces into extraordinary stories. Using your iPad, you and your kids can co-create the story taking place around you and engage with the story's characters to solve problems along the way.
Hungry Caterpillar Play and Explore takes the beloved characters of Eric Carle and applies them into a 3D pop-up app featuring a plethora of games and activities. I mean, who doesn't want to personally feed that little dude?!
Playground Physics lets you discover and explore the physics in your own movements. Record a video of you or your friends, tap points along the way to trace a path of motion, and discover the motion, forces, and energy involved. Isaac Newton would be mega proud.
FOR BIG KIDS
Froggipedia enables students to see a life-like virtual frog appear right in front of them – meaning, they won't need to fumble around with a dead amphibian body. The app allows students to dissect the frog by replacing the scalpel with Apple Pencil, providing a more ethical and cost-efficient alternative to traditional lab dissection. #BLESS
Swift Playgrounds an app for iPad that makes learning Swift — yes that coding language the real-word pro developers use to bring us exciting apps we love like Lyft, LinkedIn and Khan Academy to name a few – interactive and fun. It requires zero coding knowledge, so it's perfect for kids just starting out. Best of all, it's free.
FOR US:
Moleskine (yes, as in the gorgeous notebook with a cult following) helps you simplify your life with a suite of minimalist apps that only they could build. With the help of the Apple Pencil, you can drag and drop ideas, journals and notes onto your calendar and easily recall them by time.
GoodNotes 5 allows you to take beautifully handwritten notes and annotate PDFs and Word documents as you go. All your handwritten notes are searchable and you'll never have to worry about losing or misplacing them again, plus you can drag and drop handwritten notes into other apps, like Mail, automatically converting them to typed text. *mind blown*
Rosetta Stone will have you ordering brunch En Francais as soon as you get to Paris (Montreal?). The app trains you to associate words with imagery in real-life situations so you can fully engage in your new language. With the new Seek & Speak feature (coming soon), learners will be able to use a camera to turn everyday objects into language practice.
Trip it: Travel Planner isn't your average travel app. Yes, it will keep your family's itineraries all in one spot, as well as keeps your documents organized without internet and auto-generates itineraries so you all you have to do is the booking and Trip it will take care of the rest for stress-free travelling.
Jamie's Ultimate Recipes app is the ultimate to make cooking easy with more than 600 of Jamie Oliver's step-by-step recipes to makes sure you're totally covered. We love how you can choose a healthy, heart comfort dish, to super-quick and tasty meals that you can follow along through photos and also videos. Ok, we know the app is $9.99, but then it's yours to keep forever, just like the paper cookbooks.
Remember, NOT ALL SCREEN TIME IS CREATED EQUAL.
Use it in moderation and use it in engaging ways.
Note that The App Store has a function that allows you to browse apps by age appropriateness to help take the guesswork out of the process. We personally like this Families page as a resource for using Apple products to help us make sure kids are using them in the ways we want. There are also two free learning resources for parents available for download on iBooks –Everyone Can Create and Everyone Can Code – which are designed to help parents navigate the unchartered territory of tech-learning because trust us: it ain't going anywhere.
We've said it before and we will say it again: Knowledge is power and we love nothing more than empowering fellow Rebel Mamas to make educated decisions for themselves and their families. Hopefully anyone who was feeling overwhelmed by the responsibility of navigating technology on their kid's behalf can rest a little easier tonight. It's not all terrifying – you just need to know what's helpful and what's harmful. As always, we're happy to do the research for you.
OVERALL RM REVIEW RATING: ??????????
*
If you've got something you'd like to submit for a #RMreview email your details to info@therebelmama.com for consideration!
*
If you like what we're doing, join us on:
INSTAGRAM, TWITTER, and FACEBOOK