When you are a mom of two / entrepreneur ("do you have a business women's special?") and you're doing your best to pull off some freak-show juggling act 24/7, you're bound to have momentary fall-outs wherein you spiral into a tailspin of mom-crazy, worrying about every single fucking thing that you could ever possibly worry about. I'm no stranger to the feeling and I personally hate it. That's why I've come up with a few things I tell myself when I start to feel the *cookoo-bananas* coming on.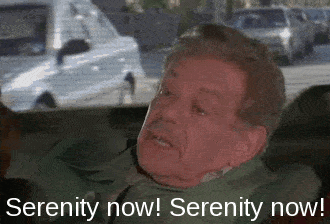 In the spirit of all the "sharing is caring" advice I constantly impart upon my 3-year-old, here they are:
1)  TRAGEDIES ARE NOT THE NORM
Yes, they do happen. And yes, it's heartbreaking and awful when they do, but they really are NOT the norm. Pay attention to the world around you, but don't let yourself start living from a place of fear. Chances are that everything is fine. And that everything's going to be fine. You're being a crazy paranoid helicopter-mom. Stop that shit immediately.
2) THE DAYS ARE LONG BUT THE YEARS ARE SHORT
The most annoyingly true parenting cliche of all time. It's too accurate. Whenever I feel like I want to press fast forward to my retirement plan of yacht+chef+yoga+chill (#rebelmamagoals), I remind myself of this.
Time feels like it's moving at a glacial pace sometimes. But it does fly and these childhood years make up a tiny percentage of your kid's life. So chill. Take it all in, try to remember the details – you'll be looking for them in your memory bank in the not so distant future.
3) IT'S NEVER GOING TO GET EASIER, BUT YOU'RE GETTING BETTER EVERY DAY
Everyday you understand the need for patience more. You muster more cojones to stick to your guns and set fair boundaries for your kids. Everyday you get more confident in your ability to make decisions on their behalf. And hopefully, by the time that responsibility becomes theirs and not yours, you will have learned to control your ego so you can let them live their lives by their own rules….
We'll see though; that one's kind of a long shot.
4) YOU'VE GOT TIME
Not to totally contradict point #2, but in the grand scheme of things, life is just beginning and there are opportunities to try new things every single day. You're never too young or too old to change your mind and live life in a new way. You may be "breaking the rules" but they're rules that YOU'VE MADE FOR YOURSELF. Their yours. You can break them if you want. If they've stopped serving a valuable purpose, maybe it's time to get rid of them anyway.
5) "EVERYTHING IS COPY" (One of my favourite quotes by one of the world's greatest writers, the late Nora Ephron.)
Don't worry about content running out. You will never run out of things to write about for as long as you live because life will keep taking you on wrong turns and bringing you off course and causing you to see the world in new ways. What you see and feel in a moment is fleeting. You'll never have the exact same moment again because your view on the world is constantly evolving with your experiences. Write what you see when you see it. Be honest. You won't notice the same things twice; you've only got one shot to explore a thought. Do it and make doing it a priority.
6) LIFE IS NOT ABOUT COMFORT
Whenever you are faced with a decision, make sure that you are not making it with comfort as the end goal.  Test yourself by asking "what would 100-year-old You tell you to do?" 100-year-old You is a BOSS and she doesn't put up with no pussy shit. Take chances.
Feel free to use any of the above pep talks at your disposal. My brain is your brain. Enjoy!
And now back to the grind.
xx N.
***
Featured image by Guy Bourdin for Vogue Paris, May 1970
***