Some of you may remember the short note we wrote to Doug Ford and Stephen Lecce a couple weeks back.
Writing it was cathartic as hell. They needed to know that parents have teachers' backs and they needed a reminder that parents of school-aged kids represent nearly 40% of Ontario's voting population and we're not fucking around.
Kids are back in school now with increased safety measures in place (Thank God) but as excited as we are for them to establish some semblance of normalcy, we're still grappling with the fear that this reintegration will collapse our province's healthcare system; a fear which, under current conditions, is entirely warranted. 
The reality is our hospitals are understaffed and overrun.
*
According to this article in The New York Post, Canada has one of the lowest number of hospital beds per capita in the industrialized world with hospitals often running at more than 100% capacity.
When asked about the reasoning behind Ontario's latest lockdown, Doug Ford pointed to projections showing the total number of patients in hospitals would exceed capacity.
So how does one increase hospital capacity to avoid future lockdowns and other emergency measures?
According to Dr. Andrew Morris, the medical director of the Antimicrobial Stewardship Program at Sinai-University Health Network: You need to add physicians and nurses.
*
In an effort to address these staff shortages, a deal has been struck that gives international nurses who have applied to practise in Ontario the opportunity to meet their applications requirements by working in health-care settings under the supervision of a regulated health-care provider. (Global News)
With over 1,200 applications already filed, this is a positive step, the only issue being that new recruits will need to be trained by existing nurses, who for the past 2 years have been worked to the bone in a dangerous environment for moderate pay while either being ignored or treated like shit by the very people for whom they're sacrificing so much.
*
According to our friend, co-signee and Founder of Moms at Work, Allison Venditti, nurses in this province are 93% female; tens of thousands of which are parents.
These are our people. They are fellow moms, sisters, and daughters who need us. They're burnt out, pushed to their breaking points, and they're quitting. They're quitting faster than they can be replaced. In a time when we need them most. So what's being done to retain these actual saints?
Not much.
Despite Ontarians supporting additional emergency pay for nurses, they won't receive it. In fact, they can't even request it because they're barred from negotiating a salary increase by a sneaky little piece of legislation called Bill 124. 
Bill 124 limits wage increases for public-sector workers – including nurses – to a maximum of 1% per year for 3 years. It was written into Ontario law in 2019, which means that nurses have been working DURING A GLOBAL PANDEMIC for the past 2 years without even the ability to advocate for their own fair pay. What the fuck is that, right?! 
Prepare yourselves; it gets worse.
Some public servants are exempt from Bill 124, namely police, doctors and executives … you know, the disproportionately male departments. And you can bet your sweet ass that Minister Lecce got a 10.2% wage increase this year too.
This is not right. And in the context of a global pandemic, it's morally corrupt and downright dangerous.
We need to support our nurses, our people, by telling our elected officials that we want them added to the list of Bill 124 exemptions along with cops, doctors, executives and – evidently – cabinet ministers. 
*
The Minister of Labour himself has the power to exempt the application of Bill 124 to any employees or classes of employees. It's a matter of putting his signature on a piece of paper.  It would be SO incredibly easy to do and it would make such a huge difference in the lives of the nurses who have given their all for us and received literally nothing in return. 
So if you have even a tiny bit of energy to expend right now, we encourage you to use your voice in support of our healthcare heroes – you know, the ones for whom we were banging pots and pans together two years ago? Whatever happened to that? We got tired? Bored? Disassociated? Well they got tired too, but they didn't stop. They kept working to protect us and now we have the chance to return the favour.
Email the following now and tell them that you support our nurses and to add them to the list of Bill 124 exemptions. 
Premier Doug Ford: [email protected]
Minister of Health – Christine Elliot: [email protected]
Minister of Labour – Monte McNaughton: [email protected]
*
This is a small action that can make a huge difference in safeguarding our province against the danger of future variants as well as the danger of future lockdowns. Let Ford and Co know that we won't stop paying attention. We won't stop holding them accountable. And we won't stand by and let our nurses, our people,  be treated like shit by a system that literally relies on them for survival.
Not today, Satan. Not today.
This letter is co-signed by Nikita Stanley & Aleks Jassem The Rebel Mama and Allison Venditti Moms At Work. 
*
WANT TO HELP US SPREAD THE WORD? SHARE ASSETS
BELOW ON SOCIALS AND TAG @therebelmama @momsatowork
Together, we can make a difference.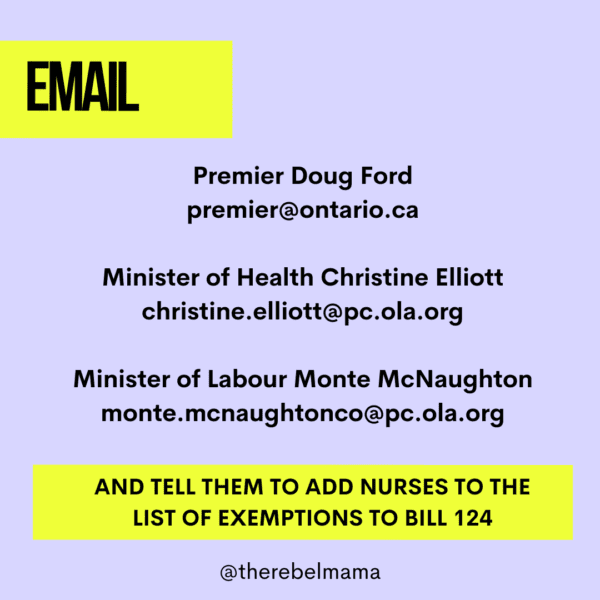 *