Preface:
I realize that sometimes even uttering the words "I have a nanny", automatically puts you in a predisposed category of having it easy and not doing much to raise your kids (especially to people without any – kids, that is). I assure you, I cook all my family meals, clean my home every day, and am very hands on with my child. I recognize my privilege in even writing this, as this is not everyone's reality. This post is simply my way of expressing gratitude and praise towards an incredibly hard-working and wonderful woman whom we have the pleasure of having in our lives. Of course, she does it all for her own family too and together we make it work like a well oiled machine.
***
This month, my husband will have been home for a grand total of ten days. Just this week, I half-jokingly asked my nanny if she'd marry me as we hovered over the stove preparing meals to last the four days I'd be gone too.
She is my lifeline.
Truth be told, when I was pregnant, I never imagined myself as even having help. I also didn't know what to expect from motherhood or how it would affect my days, my work life, and my personal time as a whole.
I had my son in April of 2014 and I was hard headed about doing it all on my own. To the perfect standards of the Virgo that I am of course, I made it very hard on myself. Our parents were helpful, but not always available as they had their own busy lives to attend to and my man was preoccupied with building his empire.
After a couple of months on duty, I really started to feel it. I was worn out, stressed out, and didn't want to admit I needed an extra pair of hands (and some freakin' personal time). Hubs insisted we look for help and took it upon himself to start the search against all my best efforts to convince him I could still do it alone. I'll be honest, I was also slightly weirded out by the concept of having a stranger care for my child especially since it had never been that way in our family.
Still, we gave it a shot.
After an array of applications and resumes received from canadiannanny.ca, we set up five interviews. Ilaine was the first one.
After our easy conversation outside of Aroma that day, all the other candidates had already lost me. I wasn't even listening to their pitch and already knew the woman who sat across from me that morning, with the kind eyes and good energy, was a go.
We eased into the the first few weeks, slowly getting to know each other, and began building a trust and respect that continues to grow today – two years later.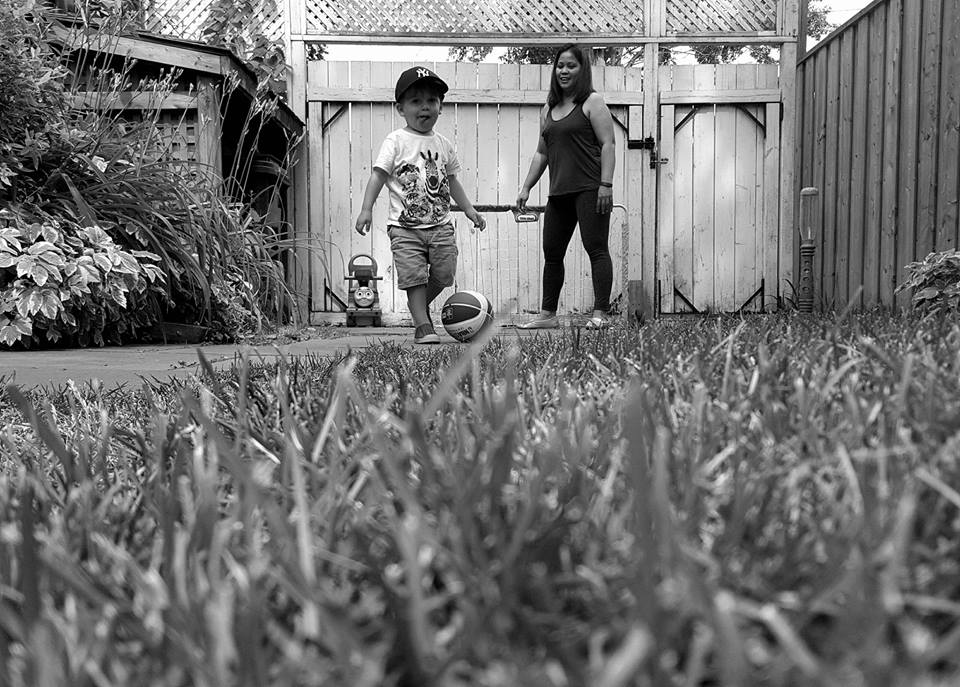 At first, Ilaine came twice a week for three hours at a time. I used to feel the urge to immediately justify her being there and go on in detail about the things I had to do that day. She told me nicely one day, "This is your time. You do whatever you need to and don' t worry. That's why I'm here." I never explained again.
After waiting out home renos in our condo uptown, we finally moved into our charming little East End home in the summer of 2014, when my son was about four months old. We looked into daycare and found out very quickly that 1) He was too young. 2) The waiting lists for his 18 month start were longer than the brunch line at Lady Marmalade. 3) Vacancies all together ceased to exist. And lastly, the expense of daycare VS. full time caregiver care was *shocker* the exact same. (Toronto, what's up?!)
It's then we asked Ilaine to come on board full time, and never looked back.
Ilaine adds onto my day the extra hours I need to get everything done. From work, to personal projects, to home errands and a few guilt free pleasures in between. She's dependable, reliable, flexible and values our time as much as we value hers. She also doesn't give us any judgey eyes when we roll in half in the bag after a night out and can barely compose a sentence… (thank you Toronto Raptors for the 2016 playoff season).
Above all, she loves Oscar whole-heartedly – just as much as he loves her, and is occupied with nothing more than his wellness, growth and safety.
We've been very fortunate to have landed someone so incredible we've never had to look the other way. Countless times her care-giving abilities have been acknowledged by other mothers, school teachers, and friends. I've even came home one day to a hand written letter by one of our neighbours asking if we'd be interested in a nanny-share. Selfishly, Ilaine and I both declined.
I'm not saying it's for everyone, but when every daycare in our area kindly told us to get lost, we did. And I'm glad.
All the worrying I did about my son missing out on the "social experience" of daycare is long gone; he attends a school drop in every morning, is on a soccer team (Little Kickers for those who want to know), frequents the drop in at the Public Library, and spends tons of time interacting with other kids – older and younger. He has flourished into a socially adjusted, well-mannered and happy kid that understands at his young age of two that Mama and Baba work hard in order to play hard and give him, and ourselves, the life we think we deserve. (I also personally like that he can eat, nap and relax in the comforts of his own home).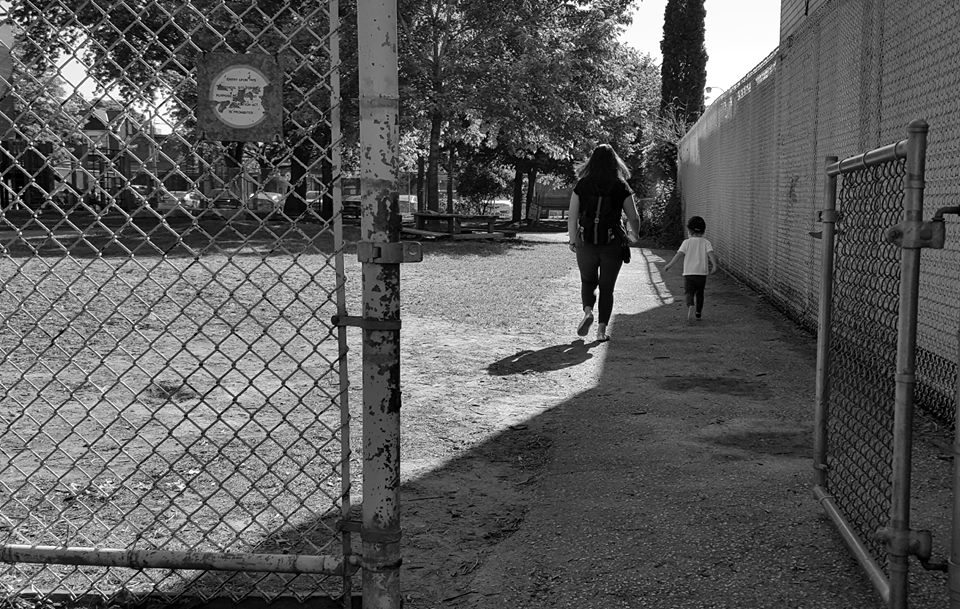 As I left to the airport early that one morning to meet my husband in Vegas for a trade show, my son calmly told me, "Mama go to work, on a plane. Oscy good boy. " and grabbed Ilaine's hand to lead her to the loft upstairs so they could go about their day reading and making dinosaurs out of playdough. No psycho meltdowns. No tears. He knew he was in good hands and that kind of display is paramount for a mother to witness. Who doesn't want a sense of calm before boarding a plane?!
She has made my parenting gig so much less chaotic and so damn manageable. My rules are implemented, my schedules respected, my kid safe.
And guess what? When our parents take over and babysit or stay for the weekend, it's more like a vacation and fun experience for everyone, and less like a part time job. And I wouldn't want it any other way for our aging mothers and fathers, who fully deserve to just enjoy him, and not have to deal with all the sideline bullshit.
Ilaine is my side kick – an extension of me – and has been there through it all. Sleep regressions, nap training sessions, massive milestones, teething catastrophes and the early stages of potty training. She has given me a sense of calm, knowing when I walk out that door each day my world at home is at it should be.
When she makes herself a tea, she makes me one. When I cook for my family, I make her an extra plate. We take care of each other like any family member would, and I wouldn't want it any other way.
So if you ever find yourself in a position where you can't find the two extra hands you desperately need, having a nanny – and a friend – like mine, may just be your best option.
Thank you Ilo for everything, but mostly – for my peace of mind.
xx A