By now you all know that we love us some Workin' Moms. We love the show for a laundry list of reasons – it's hilarious, it's empowering, it's Canadian – but just when we thought we couldn't love it any more, it basically handed us A Girlfriend's Guide to Convincing Your Man to Get A Vasectomy…  And now, we are OFFICIALLY FANS 4EVER.
In case you still haven't caught up (what are you waiting for?) here are the invaluable vasectomy-encouraging tips we gathered from Workin' Moms, Season Two (specifically episodes two & three). We hope they'll help your cause.
*
1. "TEENY TINY SLIT" – Remind him of the incision size. "OMG babe, it's like, so small. You won't even feel it. I swear."
2. "SEVEN FUCKING MINUTES" – Remind him of the time commitment. It's a seven fucking minute procedure! (This is where you need to site your labour and delivery timeline and remind him that HE OWES YOU ONE.)
3. "ARE WE ABOUT TO HAVE HOTEL SEX?" – Bring the whole vasectomy thing up directly after sex. Bonus points if it's sexy-sex in an unconventional location. *bow-chicka-wow-wow*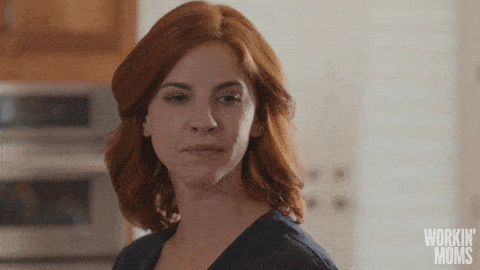 4. "NO MORE OF THESE" – Remind him of the bonuses  (i.e. no more kids! Wut wutttt!)
5."IT DOESN'T MATTER" – Remind him of the other bonuses (ie. SEXXXXX. GUILT-FREE, WORRY-FREE, FREE-TO-HAVE-FUN SEXXXXXXXXXX. Made possible by the liberty of the knowledge that sex has no chance of equalling pregnancy… HALLELUJAH.)
[wpvideo R0N18gU1]
*
God BLESS Workin' Moms for teaching us important lessons (like the ones above) about navigating this mom-life. Bless them for telling the world that moms are people too. Strong people. Funny people. Imperfect people. Insensitive people. People with goals. People who like sex. People who want their partners-in-baby-making-crime to take one for the fucking team already.
*
Workin' Moms is finally coming back from hiatus tonight (Tuesday, February 27), so make sure you tune into CBC at 9:30 p.m. EST, because something tells us there are many more valuable lessons packed into the final half of the season…
And if you're still not caught up on the first half of the season (OMG WHAT ARE YOU EVEN DOING!) you can watch them all here: cbc.ca/watch-workinmoms.
THE REBEL MAMA'S HANDBOOK FOR (COOL) MOMS COMING SOON!
Featured photo "Zabriskie Point" by Michelangelo Antonioni, 1970